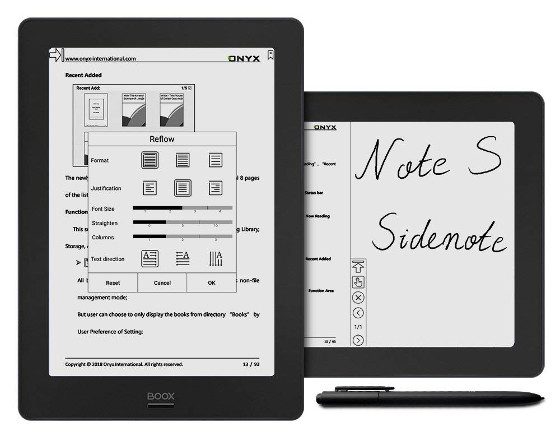 Onyx's new 9.7-inch Onyx Boox Note S is officially getting released next week.
That's right. The Boox Note S is now available to order at Amazon for $389.
It's listed as being in stock on July 26th.
At $389, the Note S is a lot cheaper than the regular Onyx Boox Note.
However, there's a good reason for that. It has half the storage space (16GB), half the RAM (1GB), the screen resolution is lower (150 ppi), it has a smaller battery (3000mAh), and it uses a lower-quality Hanvon touchscreen instead of a Wacom touchscreen for writing notes on the screen.
It also has a glass-based screen instead of a flexible screen so it's heavier at about 410 grams.
The Onyx Boox Note S does add some notable upgrades over the previous N96 models. The biggest thing is it runs Android 6.0 instead of Android 4.0 so there's more compatibility for installing Android apps. It also has a quad-core processor, a flush glass screen, and a USB-C port.
The Note S also has Bluetooth and WiFi, as well as a microphone and speakers. It has a capacitive touchscreen too.
I'm going to post a review of the Note S soon along with a comparison review with the regular Note so stay tuned for more details.