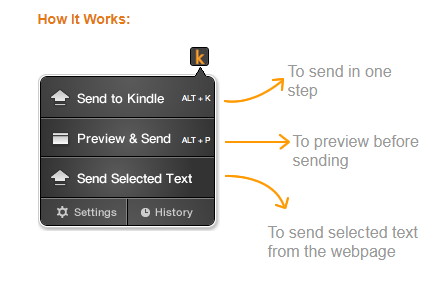 There's an easy way to send news articles, blog posts, reference guides, help articles, recipes, and other web pages you find online to Kindles and Kindle apps.
All you have to do is install a Send to Kindle browser extension and then you can easily send web pages to your Kindle with the click of a button.
Amazon has browser extensions for Google Chrome and Mozilla Firefox web browsers.
After installing the extension, a small Kindle icon will appear to the right of the address bar.
From there you can send and preview web pages. You can also choose to send selected text if you don't want to send the entire web page.
From the settings menu you can set it up to archive your web pages to your Kindle account to download from other devices and sync notes and highlights, or you can just have the web page sent to a particular device or app without adding it to your Kindle account.
A few websites have their own dedicated Kindle button that lets you send an article or web page to a Kindle device or app without having to install an extension, but most websites don't have that option.
Either way it's nice to be able to read various kinds of web content on a Kindle without having to use the slow and wonky web browser. Plus Amazon reformats the page so that it displays nicely on a Kindle's screen.
There are a few other ways to send documents, web pages and ebooks to Kindle ereaders and Kindle apps, but the browser extensions are the easiest way to send web articles.