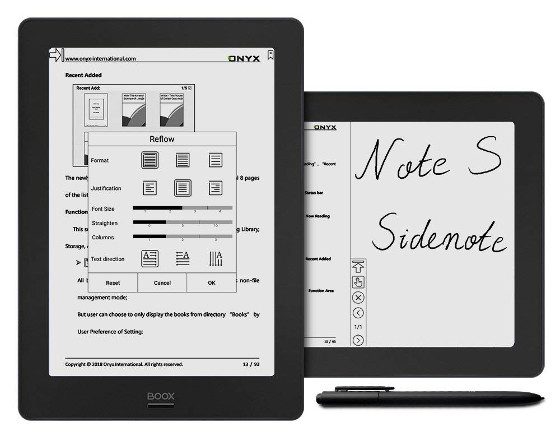 Onyx has some promotional deals going on right now at Amazon when purchasing the Onyx Boox Note, the Max2 or the Note S.
They aren't on sale like the Sony DPT-RP1, which is currently $100 off the regular price, but they all come with some free stuff—but only if you're paying close attention to the product page.
The deals are really easy to miss if you don't scroll down the page and happen to notice the "Special offers and product promotions" section.
You have to manually add each product to the cart to get the free deals.
I don't know how long the promotion lasts but this is how it breaks down as of August 16th when purchasing either of these devices:
The 13.3-inch Onyx Max2 comes with a free case that normally sells for $40, a free backup Wacom stylus pen that sells for $41, a free USB adapter that sells for $8, and a free screen protector that sells for $5. You can also get 70% off a stand holder and 50% off a leather folio case.
The 10.3-inch Onyx Note comes with a free leather case that sells for $40, a free USB adapter that's $8, and a free $5 screen protector. You can also get 70% off a backup Wacom stylus.
The new 9.7-inch Note S comes with a free cover that sells for $40 on its own.
With the prices so high on these type of devices it's always nice to be able to get some free stuff when making a purchase!