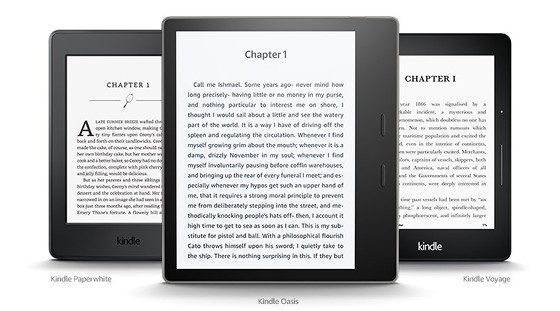 The Kindle Voyage has been unavailable new from Amazon.com since the end of last month, and it's been gone from some of Amazon's international websites for a lot longer than that, so it's fairly safe to assume that it isn't coming back at this point, especially since they removed it from the Kindle comparison tables and other Kindle product pages.
But with the Kindle Voyage gone, there's a huge hole in the Kindle lineup going from the $119 Kindle Paperwhite to the $249 Kindle Oasis 2.
You can buy 2 Kindle Paperwhites and use one for each eye and still have $10 leftover.
The Kindle Oasis has more storage space and a slightly larger 7-inch screen, and it adds page buttons and a waterproof design, plus Audible audiobook support, so it does have its own set of distinguishing features.
But are very many people really going to be willing to spend more than twice as much to get the Oasis over the Paperwhite?
In my opinion, the $79 Kindle isn't even worth considering as an option with its low resolution, unlit screen unless you only plan to read outdoors and in places with really good lighting. Even then the Paperwhite's screen is going to look better 100% of the time so why not spend $40 more for it.
But with a $130 price jump from the Paperwhite to the Oasis that's a different story.
If you want a frontlit Kindle the choices come down to a Kindle Paperwhite at a reasonable price or a Kindle Oasis at a premium price. You can still grab a refurbished Kindle Voyage for $129, but it probably won't be long before they're gone for good.
Considering the Kindle Paperwhite's design is six years old now, you'd think Amazon would offer more variety than that.
It made a lot more sense with the Kindle Voyage sandwiched in between those two devices and price points.
With such a huge jump in price from one model to the next, something needs to change in the Kindle lineup soon. Hopefully Amazon has some new Kindles in the works for this fall.