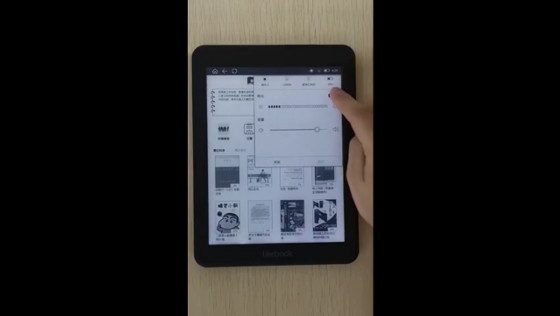 There have been some rumors going around about Boyue coming out with a new ebook reader with an octa-core processor, and those rumors appear to be true.
A series of four YouTube videos were uploaded yesterday showing off a new 7.8-inch E Ink ereader called the Boyue Likebook Mars.
In the video description it says the device has a Rockchip RK3368 1.5GHz octa-core processor.
It also says it has 2GB of RAM and 16GB of storage space, which is expandable up to 128GB (presumably through a microSD card slot).
Other specs include Bluetooth 5.0, dual band Wi-Fi, and it has a 2800mAh battery.
The weight is listed at 290 grams and the device's measurements are 198 x 144 x 9.3mm.
The 7.8-inch E Ink screen has a resolution of 1404 x 1872 (300 ppi) and it has a frontlight with adjustable color temperature.
The rumors have suggested that it will be running Android 6.0 like Onyx's newer devices but the video description just says it runs "Likebook OS" so that still remains to be confirmed.
It's good to see Boyue doing something different with their next gen devices but is an octa-core processor really necessary on an ereader?
Update: The Likebook Mars is now available to purchase from Amazon for $239.
Boyue Likebook Mars (Octacore processor)
Likebook Mars (Warm and White lights)
Boyue Likebook Mars (read manga)
Boyue Likebook Mars (read newspaper)