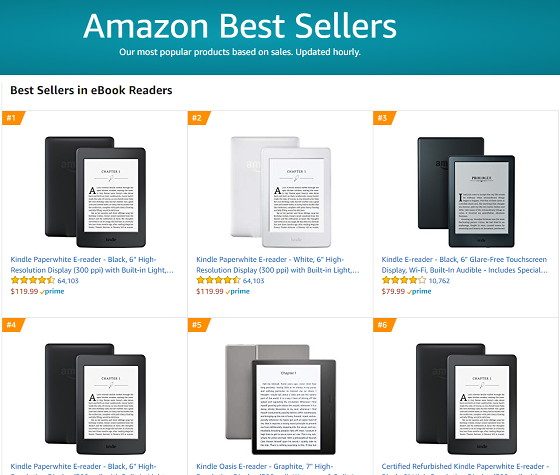 Amazon has a list of best selling products for most departments on their website, including ebook readers.
The list includes the top 100 best selling ebook readers, although a few are miscategorized and aren't ereaders at all.
The current list of best selling ebook readers provides an interesting insight into the current state of Kindles in particular.
The list is updated hourly, so that limits how much you can read into it, but the top of the list doesn't change a lot unless there's a sale.
The #1 and #2 spots go to the $119 Kindle Paperwhite with Special Offers, both the black and white versions. Amazon has long touted the Kindle Paperwhite as the best selling Kindle so that's not surprising.
The #3 spot is currently held by the cheap $79 Kindle, and the Kindle Oasis 2 shows up at #5. #4, #6, and #7 are again the Kindle Paperwhite, the models without ads and the refurbished Paperwhite.
So 5 of the top 7 spots belong to the Kindle Paperwhite. No wonder Amazon isn't in a rush to replace it with a newer model. They don't have to do anything and it still sells more than any other Kindle, and every other ebook reader ever released for that matter.
Other versions of the Kindle Paperwhite also show up at #11 and #16, and even the older Paperwhite 1 and 2 show up in the top 22.
It sure would be nice if Amazon would release an updated Kindle this year, but you can see why they haven't. It's been over 3 years since Amazon released the current Kindle Paperwhite and all they did was change the screen from 212 ppi to 300 ppi so that's the only thing that has changed in the past 5 years. And yet the Kindle Paperwhite continues to sell well…