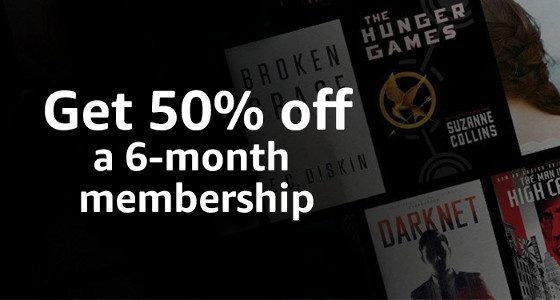 Amazon has started offering a new deal on Kindle Unlimited, their ebook subscription service, where you can get a 6-month subscription for 50% off the regular price.
This is the best deal that Amazon has offered on Kindle Unlimited in terms of percentage off. Usually the deal is 25%-40% off, and they gave away 6-months free with the purchase of a Kindle Paperwhite last year, but this is one of the best deals on Kindle Unlimited since it launched in 2014.
The fact they're taking 50% off a 6-month plan is surprising.
Usually the better deals are for longer terms like 1-2 years or an extended trial for 3-months.
Kindle Unlimited normally costs $9.99 per month, so 6-months is usually $59.94, but with this deal you can get 6-months for $29.97, so that works out to $4.99 per month.
Kindle Unlimited isn't just for ebooks. They have thousands audiobooks as well, and some magazines and comics too.
The deal is for new subscribers only and can't be used if you already subscribe to Kindle Unlimited.
The promotion expires on October 13th.
via: Slickdeals