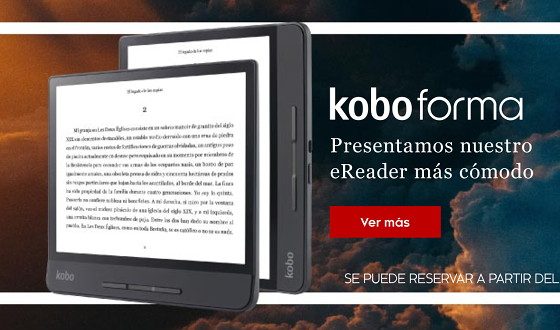 It looks like Kobo is getting set to launch a new ereader in a couple of weeks.
Not much is known about the new device yet, but they accidentally let a picture of it get out early, which seems to happen just about every time Kobo releases a new ebook reader.
What's interesting about this new model is it's the first Kobo to have page buttons since the Kobo Wifi that was released in 2010.
The new Kobo looks a lot like the Kindle Oasis with the page buttons situated on one side of the screen, but it doesn't appear to have the unusual contoured shape of the Kindle Oasis.
The new model is called the Kobo Forma, at least in Spanish that's what they're calling it.
The picture shows the power button and USB port on the side next to the buttons. That seems like an odd placement with your hand resting there to use the page buttons.
Aside from the side with buttons, the bezel is really small on the other three sides just like the Oasis.
It's hard to tell anything else from the picture. The device looks like it probably has a 6 or 7-inch screen. And it's interesting how one picture shows landscape mode, which is something Kobos don't have for ebooks so perhaps they're finally going to add that feature.
The new model is expected to get released on October 16th, but Kobo will probably announce it a week or two before then to start accepting pre-orders.
via: MobileRead