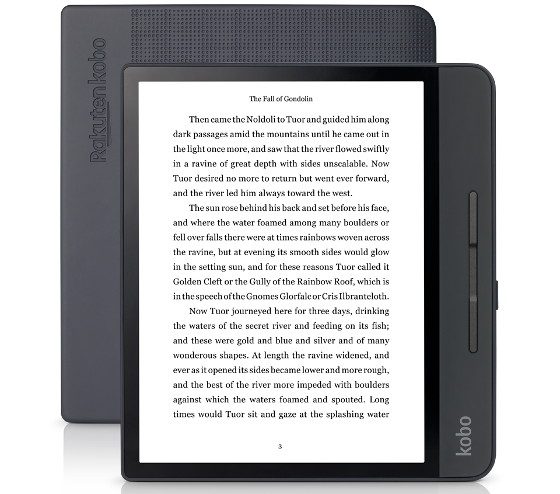 Today Kobo officially announced the upcoming release of a new ebook reader called the Kobo Forma.
It's Kobo's most innovative ereader yet, and it one-ups the Kindle Oasis in a number of ways. It has a similar design as the Kindle Oasis with page buttons on one side of the screen and a tapered back (but without the wedge).
You can read in portrait or landscape mode and you can set the screen to automatically rotate.
The Kobo Forma has an 8-inch E Ink screen with 300 ppi, and it includes Kobo's color-adjusting frontlight.
What's really cool is it's one of the first smaller ereaders to use a flexible plastic-based E Ink screen so it's a lot more durable and lighter than a typical glass E Ink screen.
This is from the press release:
Kobo Forma is the most durable eReader available with the introduction of Mobius technology, which uses a flexible plastic layer within its display. This allows for an ultra-thin and light-weight device that provides a high degree of durability to withstand the pressures of daily use. Through impact testing, Kobo Forma has been shown to withstand drops of more than 2 meters, as well as more bends, twists, full handbags, and overloaded backpacks than any previous eReader.
Even with the larger 8-inch screen, the Kobo Forma only weighs 197 grams. That's lighter than the 6-inch Kindle Paperwhite.
The Kobo Forma is waterproof as well, with an IPX8 rating. It has 8GB of storage space, WiFi, a micro USB port, and a 1200 mAh battery.
It measures 160 x 177.7 mm, and it's 8.5 mm thick on the side with the buttons and tapers down to 4.2 mm on the thin side.
Pre-orders for the Kobo Forma start on October 16th. The official release date is October 23rd. It sells for $279 USD.
The press release also notes that a 32GB version will be available in Japan on October 23rd, and it will be available in other countries at a later date.
Kobo Forma Revealed