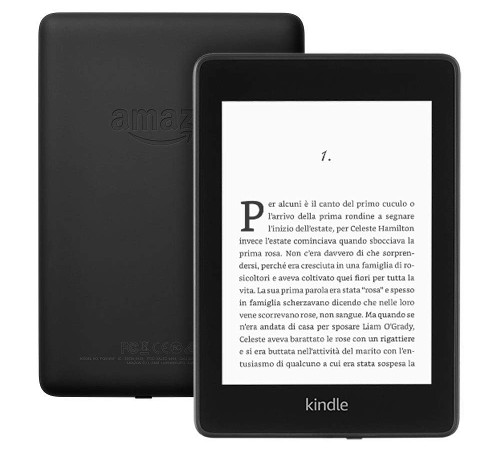 Amazon has unveiled a new Kindle Paperwhite today. It's thinner and lighter than the previous model, it's now waterproof, they added Bluetooth for audiobooks like the other Kindles, and it comes with more storage space now.
But other than that not much has changed. It still has no page buttons, no color adjusting frontlight, and it's not using a flexible Mobius screen like the new Kobo Forma.
It has the same Paperwhite look with the unusually large bezels, but it does add a flush front screen similar to the Kindle Voyage and Kindle Oasis.
The Kindle Paperwhite 4 has the option for 8GB or 32GB of storage space, and there's a Wi-Fi model and a Wi-Fi plus 4G model.
Both versions measure 167 x 116 x 8.18 mm. The Wi-Fi version weighs 182 grams and the cellular version weighs 191 grams.
The waterproofing is IPX8 rated, meaning it can withstand being submerged in up to 2 meters of water for 60 minutes.
The price starts at $129 for the 8GB Wi-Fi model with Special Offers (ads). The 32GB model starts at $159 and the 4G model sells for $249.
Pre-orders for the new Kindle Paperwhite begin today. The official release date is November 7th. Amazon is also giving away 6-months of Kindle Unlimited with the purchase of the new Kindle Paperwhite.