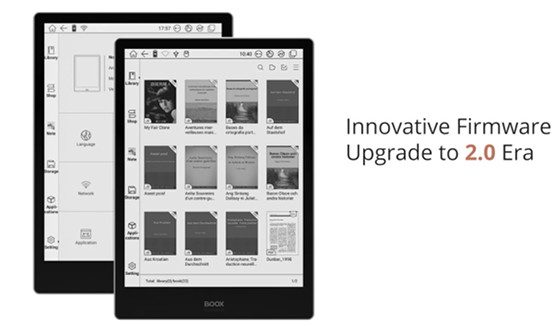 Onyx recently uploaded a YouTube video showing off some new software features that they're adding with an upcoming 2.0 software update.
The new firmware will be available on their newer Android 6.0 devices, including the Max2, the various Note models, and the soon-to-be-released Onyx Boox Nova.
The 2.0 software adds a number of new features and a new user interface.
The new UI looks like a big improvement; it's about time they differentiated the new Android 6.0 software from the old Android 4.0 software.
They added some new features for using the stylus, with the option to select, move, rotate, duplicate, resize, and remove handwritten notes and drawings.
They also added a new recognition feature that lets you run searches through your handwritten notes.
Other improvements include a 30% speed increase when opening PDF files, they've added the option to view two pages at once in landscape mode, and now a Bluetooth keyboard can be used to add text notes anywhere on notes page. They also added some new app management and optimization features to speed things up and help make 3rd party apps work better on E Ink.
It looks like an onboard ebook store is getting added to Onyx's ereaders as well, although that might just be a regional thing.
Firmware 2.0 Upgrade