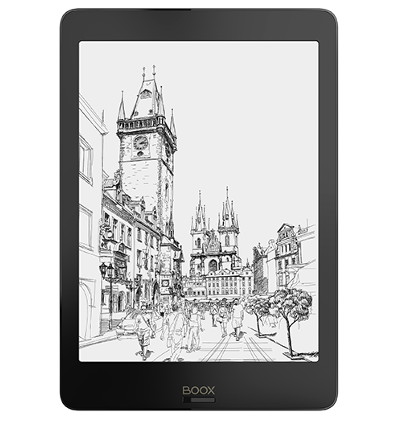 Earlier in the month, the final specs of the new 7.8-inch Onyx Boox Nova were revealed, and it turns out there will be two versions, one with a Wacom touchscreen without a light—the Nova Plus—and one sans the Wacom touchscreen with a frontlight.
Now there's a YouTube video showing the final version of the Onyx Boox Nova and Nova Plus.
Both versions have identical specs aside from the frontlight and Wacom touchscreen differences.
The Nova Plus is basically a smaller version of the Onyx Boox Note.
The Nova runs Android 6.0, and there's a brief look at the updated UI in the video.
Like the larger 13.3-inch Max2 and 10.3-inch Note, the Nova has a 1.6GHz quad-core processor with 2GB of RAM and 32GB of storage space. It has Wi-Fi, Bluetooth, and a USB-C port.
The model with a frontlight has both cool and warm color tones, and the E Ink screen has 300 ppi like the other 7.8-inch ereaders. Both versions have a capacitive touchscreen.
According to Onyx's reps, the Boox Nova is expected to get released in November or December, and the Nova Plus will come out a bit later in 2019. The price hasn't been set yet but it should be under $300 USD to compete with other similar-sized models.
Onyx Boox Nova & Nova Plus (final version)