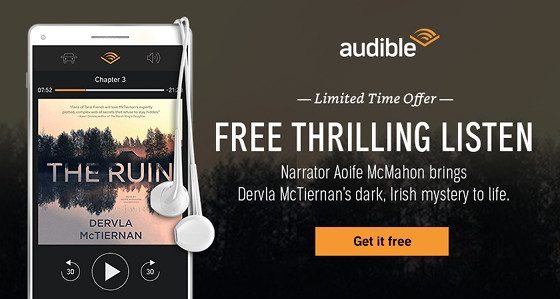 Over on the Amazon first reads page, where Amazon Prime members can choose a free ebook each month among a list of six new release titles, they're advertising a free audiobook from Audible.
The free audiobook is The Ruin by Dervla McTiernan. The audiobook is narrated by Aoife McMahon and it has a runtime of 10 hours and 25 minutes.
It's categorized in the Mystery, Thriller & Suspense section and it has a 4.4-star rating.
This is a limited time deal but they don't specify how limited so get it before the offer expires.
It doesn't require a Prime membership or active Audible membership; you just need an Audible account.
In addition to the freebie, there are a couple of ongoing deals for new Audible memberships.
Amazon Prime members can get a free 3-month trial subscription that includes 3 free audiobook credits.
If you aren't eligible for that offer, there's a separate deal where you can get 3 months for $6.95 per month, which is 53% off the regular price.
Another offer found via Slickdeals, if you have an Amazon Fire TV device you can get a $5 Amazon credit for downloading the Audible app. See here for more details. It ends on November 13th.