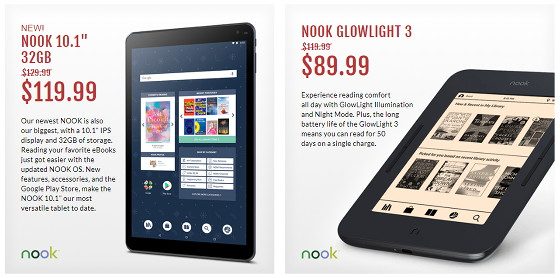 Today Barnes and Noble unveiled their list of Black Friday/Cyber Monday deals and it includes sales on three Nook tablets and the Nook Glowlight 3.
The online deals start at 12 AM EST on November 22nd and run through November 26th. In-store deals start at 12 AM EST on Friday, November 23rd.
You can find the list of Black Friday Deals on Barnes and Noble's website.
This press release includes a written summary of what deals to expect on Black Friday and Cyber Monday as well.
Here's the list of Nook Deals beginning November 22nd:
Nook Glowlight 3 – $89 (regular price $119)
Nook Tablet 10.1″ – $119 (regular price $129)
Samsung Galaxy Tab E Nook 9.6″ – $129 (regular price $199)
Samsung Galaxy Tab A Nook 7″ – $99 (regular price $129)
Barnes and Noble has tarnished the Nook's reputation somewhat but even still $89 is pretty cheap for an ebook reader that has a 300 ppi E Ink screen with adjustable frontlight color, page buttons, and 8GB of storage space.
A whole $10 off the 10-inch Nook Tablet is pretty laughable by Black Friday deal standards but it's their latest model released on November 14th. The 7″ Galaxy Tab A Nook is already selling for $99 so that's not much of a deal.