Kindle Paperwhite 4 vs $79 Kindle Comparison Review (Video)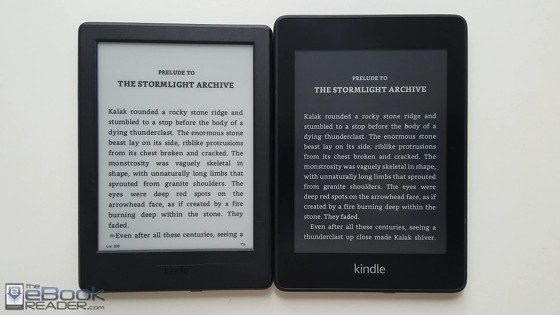 This a comparison review between the new Kindle Paperwhite 4, the 2018 model, also known as the 10th generation Kindle, and the current entry-level $79 Kindle that was released back in 2016, which is referred to as the 8th generation Kindle.
Both devices share 95% of the same software features, both have 6-inch E Ink screens, and both have Bluetooth and support Audible audiobooks in addition to Kindle books, so this comparison mostly comes down to hardware differences.
The main thing is the Kindle Paperwhite adds a frontlight and a higher resolution E Ink screen, and it's also waterproof.
The $79 Kindle is about 20 grams lighter, and it's available in black or white.
The Paperwhite is available in multiple configurations, with 8GB or 32GB of storage space, with 4G wireless and without, but it's only available in one color: black.
Below is a list of the main differences between the two Kindles. At this point it's hard to say when it comes to battery life, as the Paperwhite 4 has been out less than two weeks, so we'll save that for another time.
Main Differences
Frontlight: The main advantage with the Kindle Paperwhite is it adds a frontlight so you can easily read under any lighting conditions. Even in a well lit room the frontlight helps add contrast by making the background appear lighter. Unless you only plan to read outside or in rooms with really good lighting and lamps then a Paperwhite is easily worth the extra $50 just for the frontlight alone.
Screen: Both have 6-inch E Ink screens but the entry-level Kindle has a lower resolution screen with 167 ppi, whereas the Paperwhite has 300 ppi so text is sharper and clearer. The Paperwhite also has a flush glass screen, which may look better aesthetically, but fingerprints and reflections are more visible than on the entry-level Kindle with its indented screen to accommodate the infrared touchscreen sensors.
Over the years I've complained a lot about the entry-level Kindle's screen because it's the same low resolution screen the Kindle 3 had way back in 2010, but the screen really isn't that bad with good lighting, especially now that you can use custom fonts. It doesn't have any frontlight, glass, or capacitive layers over the E Ink screen so it's not being degraded like other ereader screens. If they'd just upgrade it to 212 ppi it would probably be as good as 300 ppi screens with all the extra layers over the E Ink.
Storage: The entry-level Kindle comes with just over 3GB of usable storage space so that doesn't leave much room for audiobooks. The Kindle Paperwhite 4 comes with 8GB of storage space and there's a 32GB model as well.
Speed: One thing I find interesting is the fact that the entry-level Kindle is faster than the Kindle Paperwhite. It turns pages a split-second faster, it opens menus a spit-second faster, and pinch-zooming images is smoother. It seems to come down to the lower resolution screen being less demanding on the processor.
Price: The Kindle Paperwhite 4 sells for $129 and the entry-level Kindle sells for $79 ($59 refurbished). Those are the regular prices, not the sale prices. The Paperwhite also adds the option for a model with 32GB and 4G wireless, which will set you back $249.
Conclusion
The entry-level Kindle is hard to pass over because it's so cheap, especially when it goes on sale. If you just need a basic ereader for reading outside and for occasional use it's not a bad option, but if it's something you're going to use often, especially in the evening or at night, you're much better off getting an ebook reader with a frontlight built-in.
For $50 more the Paperwhite adds a light, a higher resolution screen, more storage space, waterproofing, the option to use white text on a black background, and it has a nicer design so there's no denying the fact the Kindle Paperwhite is still the best value in the Kindle lineup.
Check the Kindle Comparison Table for an outline of each Kindle's features.
Kindle Paperwhite 4 vs Kindle Video