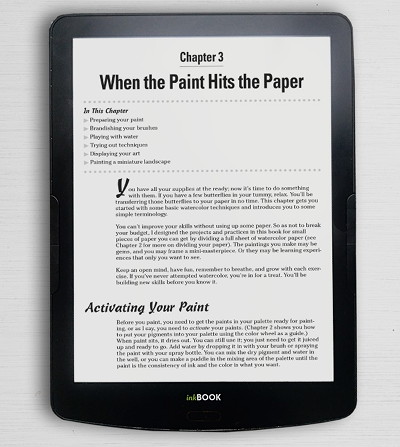 Among the growing list of 8-inch ebook readers that have been released in 2018, a new 7.8-inch Inkbook model has turned up for sale at Amazon from Arta Tech.
The InkBook Explore was unveiled a few months ago when they started taking pre-orders, and now it's available to purchase for $239 with free shipping.
That just happens to be the exact same price as the new Likebook Mars, which also has a 7.8-inch 300 ppi screen.
Unfortunately the listing at Amazon doesn't provide any details about the Inkbook Explore yet, but the specs are listed on the Inkbook website, and they aren't impressive.
Basically the Inkbook Explore was released a couple of years too late. It has a single-core 1GHz processor with 1GB of RAM, 8GB of storage space and it runs software based on Android 4.4.2 Kitkat.
Compare that to the Likebook Mars with an octa-core processor, 2GB of RAM, 16GB of storage space and Android 6.0 with Google Play onboard.
Both have microSD card slots and both have frontlights with temperature control so it's going to be an uphill battle for the Inkbook Explore. It also has Wi-Fi, Bluetooth, a micro USB port, and a 3000 mAh battery.
One advantage it does have is the addition of page buttons on each side of the screen, but after my experience with the Inkbook Lumos the old software was a big letdown. They say the Explore has a "completely new interface" so maybe there is some hope for this model, but that remains to be seen.