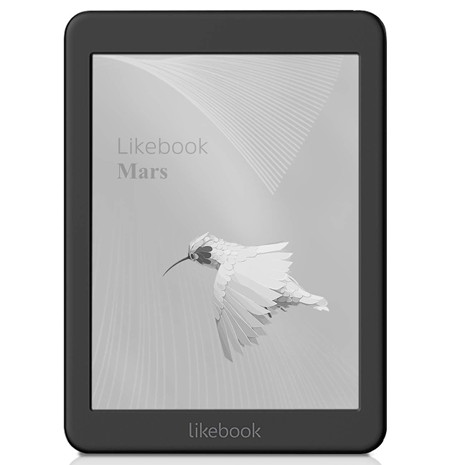 Review Date: October 2018 – Review unit purchased from Amazon
Overview
The Likebook Mars is made by a company called Boyue that's based in China.
Boyue has been making ereaders for several years now, sometimes under different brand names (like InkBook), but the Likebook Mars is their first to run Android 6.0 (the other models have software based on Android 4.2 and 4.4) and it's also the first ereader to come with an octa-core processor.
The Likebook Mars is model T80D. It's basically an upgraded version of the Likebook Plus (T80S).
It has a recessed 7.8-inch E Ink screen with 300 ppi, and it has a dual color frontlight with warm and cool light tones. However, the colors can't be blended like with Kobo ereaders; instead you can only switch between cool and warm.
Apparently it comes with the Google Play store pre-installed now. At first it didn't so I was using APKPure to download apps.
Personally I don't like the default Boyue reading app at all. It butchers the layout of ebooks and uses its own wonky formatting with a bunch of spacing issues.
Luckily other apps can be installed. I like KOReader a lot better than the default app, and it was designed for E Ink devices so it works quite well. One nice thing about Boyue's software is you can set a default app to open books from the homescreen and library view so you don't have to use the built-in app if you don't want to, and the library view is nicer than KOReader's.
As shown in an earlier review, the Kindle app works pretty well too. Boyue updated the Likebook's software right after posting that review and now the Kindle app refreshes better than it did before. Overall the app works pretty well on the Likebook Mars, but the font choices aren't ideal for E Ink.
The Likebook Mars also has Bluetooth for connecting things like keyboards and speakers, along with a headphone jack. If doesn't have text-to-speech like Onyx's ereaders, however.
It doesn't come with very many apps pre-installed, just some core apps like a music player, an image viewer, and a basic file manager. It does include a web browser that works pretty well considering the E Ink screen, much better than the Kindle's awful web browser.
Likebook Mars Review
Pros
Android 6.0 is a big step up from their previous devices and it offers a lot more possibilities than a typical ebook reader.
The adjustable frontlight is nice and it has a good range of brightness settings and it isn't too bright at the lowest setting.
It's surprisingly fast and responsive with the octa-core CPU and 2GB of RAM, and it offers some hardware upgrades not available on most other ereaders, like a memory card slot and headphone jack.
Cons
The built-in reading app isn't very good.
3rd party apps don't refresh as well as they could, so there's lots of flashing and afterimages.
The software still feels like a work in progress; Onyx's Android 6.0 ereaders are more refined by comparison and offer a lot more features, especially when it comes to reading PDFs.
Verdict
The Likebook Mars has a rather basic design somewhat similar to the Kindle Paperwhite. It doesn't have any page buttons and the lack of a hardware back button isn't ideal with Android (sometimes you get stuck in an app without the menu bar and the only way to get out is to reboot). It doesn't have a flush front screen, and it's not as thin and light as the Kobo Aura One, and it also lacks waterproofing and a premium feel.
Given that, the price seems a bit on the high side, but you're paying for that octa-core CPU and open Android experience.
If you just want to read Kindle or Kobo books, you're better off getting one of those devices (in fact you could buy both a Kindle Paperwhite and Kobo Aura 2 for less than the Likebook Mars). But if you're the kind of person that wants some extra features and customizable options and don't mind loading in other reading apps the Likebook Mars is a solid option. In fact it's one of the best Android ereaders to get released thus far.
Personally I like Onyx's software better, especially when it comes to reading PDFs, so stay tuned for my review of the 7.8-inch Onyx Boox Nova when it gets released soon. It'll be interesting to see how the two compare.
Likebook Mars Video Review
Kindle Oasis vs Likebook Mars Comparison Review
Likebook Mars Specs
7.8-inch E Ink Carta screen.
1404 x 1872 pixel resolution (300 ppi).
Capacitive touchscreen (2-point).
Frontlight with option to use cool or warm color temperature.
Android 6.0 operating system.
1.42GHz Freescale RK3365 octa-core processor.
16GB storage space.
MicroSD card slot for cards up to 128GB.
2GB RAM.
Wi-Fi.
Bluetooth 4.1.
Micro USB port.
Supported formats: EPUB, PDF, MOBI, TXT, FB2, HTML, PPT, DOC, plus more via 3rd party apps.
Dimensions: 198 x 144 x 9.3mm
Weight: 251 grams.
Battery: 3100mAh.
Sells from Amazon for $239-$269 (the price fluctuates).