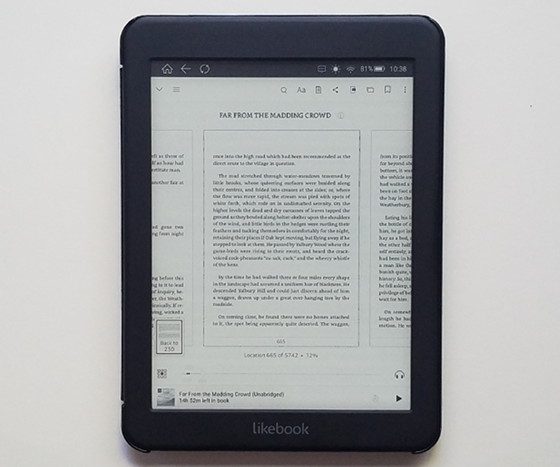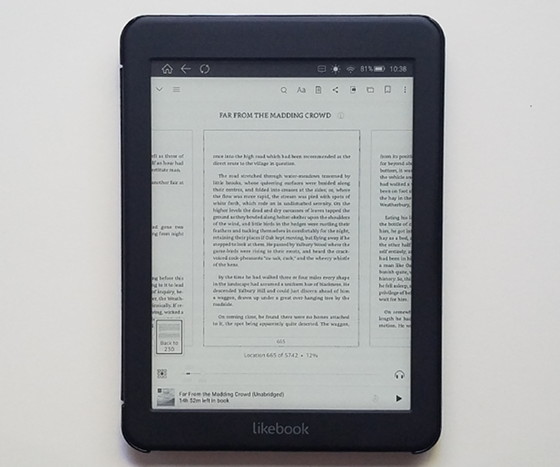 Does the Likebook Mars with the Kindle app make for a suitable 7.8-inch Kindle? That's the question we look to answer with this review.
The Likebook Mars is a new 7.8-inch ebook reader that runs Android 6.0. It has an octa-core processor and 2GB of RAM, so unlike Android ereaders of the past, it has plenty of horsepower to run the Kindle app smoothly.
For the most part the app works well enough to read Kindle books but there are some problems.
The main issue with the Kindle app on the Likebook Mars is the simple fact the app isn't designed for E Ink screens so it doesn't refresh the display properly.
There's a sliding animation when turning pages that's rather awkward with E Ink, and it causes some light afterimage effects.
Sometimes the page will refresh better than other times. You can force a refresh from the status bar but that's not a practical solution.
For some reason the Kindle app refreshes better on the Onyx Boox Note. There is no sliding effect when turning pages; it refreshes the text only so there's less ghosting and the text remains crisp.
Despite the ghosting, most of the app's features work well enough to be usable. You can add notes and highlights, run searches, lookup words in the dictionary, reference Wikipedia and use the translation feature, among other things.
The Likebook Mars has an audio jack and Bluetooth so it can use the Kindle app's audiobook features as well. Immersion Reading does work where it highlights the text while playing the audiobook. However, the highlighting is slightly out of sync with the speaking unless you turn on A2 mode, which causes more ghosting.
In short, the Kindle app is usable on the Likebook Mars, and most of the features work pretty well, but the lack of proper refreshing isn't optimal by any means. Hopefully Boyue will update the software to make it so the E Ink refreshes better with 3rd party apps like with Onyx's ereaders.
Update: They updated the software shortly after posting this review and now the Kindle app refreshes a lot smoother, and so do other 3rd party apps.
Likebook Mars Kindle Video Review