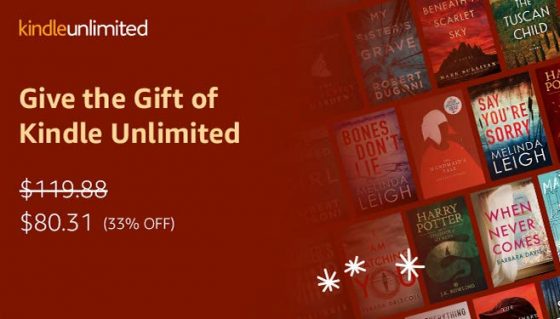 If you're looking for a last minute gift idea, Amazon has just put Kindle Unlimited subscriptions on sale.
You can get a 1-year subscription to Kindle Unlimited for $80.31, which works out to about $6.70 per month.
The regular price is $9.99 per month so that's a savings of just under $40 for 12 months.
Kindle Unlimited provides access to a library of over 1 million ebooks, several thousand audiobooks, and dozens of magazines and comics.
The big five publishers don't offer their ebooks through Kindle Unlimited (with Amazon's strict exclusivity requirements you can't blame them), but it is a good way to find new authors.
You can read as many ebooks and listen to as many audiobooks from the catalog as you want; the only stipulation is you can only have 10 downloaded at one time before you have to return one to get another.
Kindle Unlimited books can be read on Kindle ereaders, Fire tablets, and any device with a Kindle app or web browser using the Kindle Cloud Reader.