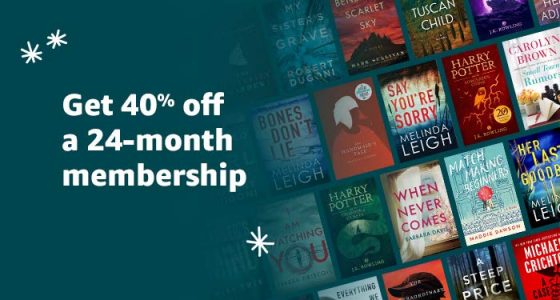 Earlier in the week Amazon put Kindle Unlimited subscriptions on sale for 33% off on 1 year, and now they've added some more deals on Kindle Unlimited for different plans.
These new deals don't appear to be giftable, however, like the other deal from earlier in the week. If you want to give Kindle Unlimited to someone as a gift see this other page at Amazon for the 12 month 33% off gifting deal.
While you can't give these new deals as a gift, they are open to new and existing subscribers so you can add additional months to your subscription at a discount if you're already a member.
These deals below can all be found on this page with the Kindle Unlimited Sale. There are three options:
6 months 20% off
12 months 33% off
24 months 40% off
There's also a separate deal where new subscribers can get 3 months for $0.99.
Note that you'll automatically be charged the regular price of $9.99 per month on these Kindle Unlimited plans once the purchased offer ends so remember to unsubscribe by the end of the last month if you don't want to re-subscribe at the full monthly rate.
This time of year, along with Prime Day in July, are the best times to get Kindle Unlimited subscriptions because that's when they are the cheapest. If you time it right you can get discounts every year.