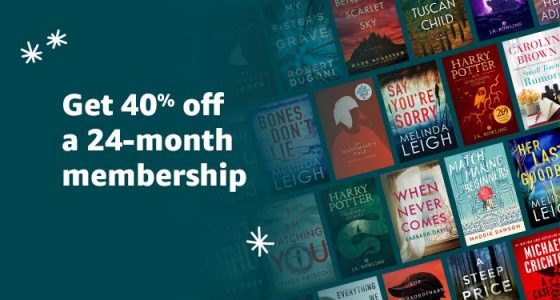 In case you missed it, Amazon put Kindle Unlimited subscriptions on sale right before Christmas, which is something they usually do a month earlier for Black Friday, but this year they've been doing things differently in regards to Kindle sales (I still can't believe they never put the entry-level Kindle on sale for the holidays).
The Kindle Unlimited sale is still ongoing until January 11th, 2019. Since Amazon does such a bad job of advertising it, the sale is worth mentioning again.
The deal breaks down like this:
6 months is 20% off
12 months is 33% off
24 months is 40% off
If you already have an active membership you can add extra months at the discounted price.
There's also a separate deal where new or returning members can get 3 months for $0.99.
Amazon is such a weird company sometimes. Unless you just happen to come across the banner advertisement you wouldn't even know the sale exists.
They don't advertise the sale anywhere on their main Today's Deals section, not even when you sort by Kindle sales.
If you click on a Kindle Unlimited link or run a search for Kindle Unlimited it just goes to the main landing page where the sale isn't mentioned at all. They just show the regular 30-day free trial offer with the regular price of $9.99 per month thereafter.
You'd think maybe the sale would be advertised on the main Kindle eBooks page at Amazon. But nope, you can't find it there either. There are only like 2 pages the deal is being advertised on and they aren't easy to come across naturally.
It's like they're going out of their way to make the deal hard to find. But now you know, and if you want to subscribe to Kindle Unlimited now is the best time to do so while it's on sale. Kindle Unlimited is a lot like Netflix: there's lots of awful content not worth any sane person's time, but there are some gems to be found as well. If you read a lot it's definitely worth looking into.