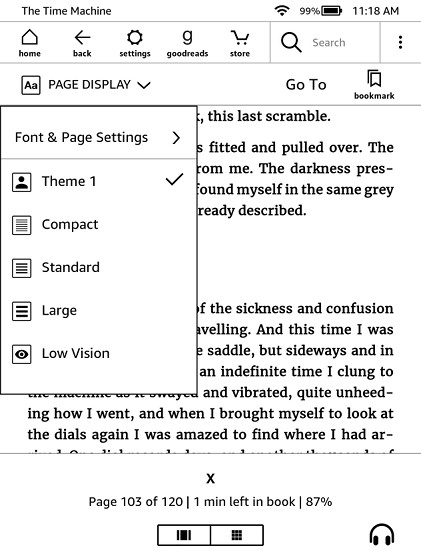 Back in October after Amazon announced the Kindle Paperwhite 4, they released a software update that added a new themes feature to Kindles that lets you create and save multiple custom reading settings.
Themes are available on the Kindle Paperwhite 2 and newer, so that includes all Kindles released in the past 6 years.
To use themes your Kindle needs to be running software version 5.10.1.1 or newer.
You can access the list of themes by tapping the top of the screen while reading and selecting Page Display.
There are a few preset themes available. If you don't want to use them you can choose to hide them by going to Font & Page Settings > Themes > Hide. You can save new themes there on the Themes tab as well.
With themes you can set the font type, the boldness level, page margins, line spacing and screen orientation settings.
For example, if you sometimes want to read in landscape mode using a different font size and boldness setting you can save a theme and quickly switch to it without having to redo all of the layout parameters each time.
It would be nice if you could also set custom frontlight brightness for a theme, and set the inverted mode to toggle on/off for white text on a black background. But currently neither of those settings apply to themes.
What about you? Do you like using the new theme settings?