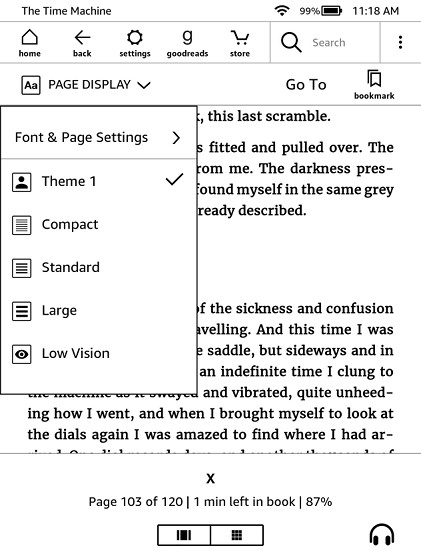 With the release of the new Kindle Paperwhite 4 yesterday, Amazon also revealed an updated homescreen and some other additions to the software, including the option to save multiple reading settings to create custom themes, and now those features are already available on other Kindles with this latest firmware update.
The new software version is 5.10.1.1 and it's available for all current Kindles dating back to the Kindle Paperwhite 2, which was released in 2013, so all the Kindles released in the past 5 years get the update.
You can download the update now from Amazon and install it manually.
Just select your specific model from the list to get the download file and install directions.
Or you can wait for your Kindle to automatically download and install the new update, if you leave Wi-Fi turned on, but that can several weeks sometimes since they roll out the updates slowly in phases.
With the new homescreen, you can scroll down to see additional tips and recommendations, which now includes free books available in Kindle Unlimited if you subscribe or Prime Reading books if you're a Prime member. They also added reading accomplishments, which shows things like how many days you've spent reading in the past month.
If you want to use the new homescreen features with this update, you have to have recommendations turned on in settings. Go to Settings > Device Options > Advanced Options > Home & Library > Home Screen View to turn on and off recommendations on the homescreen.
The new Themes option is pretty cool. You can setup various screen layouts with different font, boldness, and screen orientation settings and then quickly switch between them from the menu bar.
Here's the full changelog for the 5.10.1.1 update:
Swipe-able Home: Swipe up on your home screen to see additional tips, recommendations, and more based on your reading habits.
Easily personalize your reading: Now save multiple reading settings, selecting the font, boldness level, and orientation settings you prefer all from the main menu and quickly switch between those settings.
Return borrowed books: You can return Kindle Owners' Lending Library books from within your library by long pressing on a borrowed book and selecting return.
Battery percentage: The percent of battery remaining is shown.
Labels for the standard toolbar: Labels are added under each icon on the standard toolbar for improved navigation.
Performance improvements and other general enhancements.