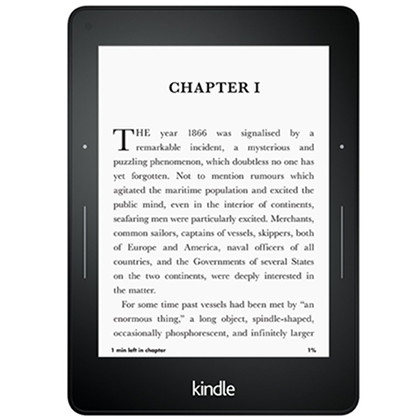 Woot is back at it again with another Kindle sale. This is a 1-day only deal for January 23rd.
This time around they have the Kindle Voyage available for $129. It's in new condition and comes with a 1-year Amazon warranty.
This ties the lowest price ever for a new Kindle Voyage.
Woot was previously selling them for $149 until this sale came along; the Wi-Fi Kindle Voyage originally sold for $199 new before Amazon discontinued it.
The Kindle Voyage was released back in 2014 so it's pretty old by electronics standards, but it has the same software as the current Kindles and offers most of the same features.
It's quite a bit nicer than the new Kindle Paperwhite if you don't need the extra storage space, Audible support, and waterproofing. See the Kindle Voyage vs Kindle Paperwhite review for a closer look.
These are Wi-Fi versions with international 3G wireless, but the 3G doesn't work in North America so it's essentially a Wi-Fi model.
Update: This deal has ended but they still have refurbished Kindle Voyages available for $89. Also keep an eye on the tablet deals page at Woot for more Kindle offers.