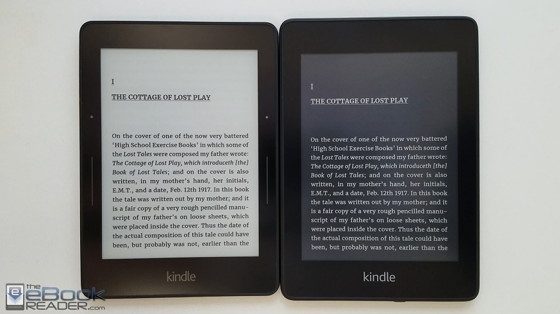 With the release of the new Kindle Paperwhite 4, some might think of it as an upgrade to the Kindle Voyage since it's an older model that was released back in 2014.
In some ways the new Kindle Paperwhite is an upgrade over the Kindle Voyage. It has twice as much storage space and it's waterproof, and they added Bluetooth to connect headphones and speakers to listen to Audible audiobooks.
But when it comes to the core reading experience the Kindle Voyage is still undoubtedly the superior Kindle.
The screen is clearer and the overall build quality and design has a more higher-end feel to it.
Both Kindles have the same 6-inch 300 ppi E Ink Carta screen, but the contrast is much better on the Kindle Voyage, both with the frontlight on and off. Text is noticeably darker and the background is whiter (under good lighting it's surprising just how big the difference is; it's like comparing an older E Ink Pearl screen to a newer E Ink Carta screen).
You would think that Amazon could find a way to make a new Kindle better than a 4-year-old Kindle that was discontinued over the summer, but unfortunately that's not the case.
In fact I would consider the Kindle Paperwhite 4 a downgrade from the Kindle Voyage.
Considering the fact that the retail price of the Voyage is $70 higher than the new Kindle Paperwhite, that's not particularly surprising, but if Amazon is going to do things this way they could've at least released an upgraded Kindle Voyage as well.
Getting rid of the nicer Voyage and then expecting people to settle for the inferior Paperwhite 4 is disappointing.
Amazon still sells the Kindle Voyage refurbished and they get some news ones in stock sometimes. If you want a new 6-inch Kindle it's still worth considering if you don't care about the waterproofing, the extra storage space, and Audible support on the Paperwhite 4.
Update: It turns out another difference between the two is the fact that the front of the screen on the Paperwhite is made out of plastic instead of glass.
KPW4 vs Kindle Voyage Video Review