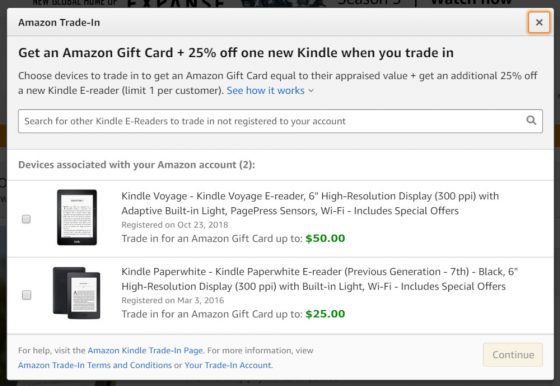 If you have an older Kindle just sitting in a drawer somewhere that you're not using anymore, or if you just want to trade up to a newer model, don't miss the chance to capitalize on Amazon's 25% off Kindle trade-in deal.
I've posted about it before like with this tip to get a Kindle Oasis for 25% off since Amazon never puts it on sale.
You can even use the 25% off trade-in deal during Kindle sales, like right now with the new Kindle Paperwhite that's on sale for $99.
In addition to getting 25% off a new Kindle, you also get an Amazon credit for the value of the trade.
Some Kindles are valued more than others, but even if your old Kindle is broken Amazon will still give you $5 for it.
As shown in the screenshot above, the previous Kindle Paperwhite has a trade-in value of $25 if it's in working condition, which isn't really that much, but once you combine that with the 25% off deal you can essentially upgrade to the new Paperwhite for about $50.
They didn't use to have an end date listed in the terms and conditions section of the trade-in page, but now it says qualifying trade-ins must be completed by March 29th, 2019, so if you want to take advantage of the deal do so before then. Or maybe they'll just change it to a later date once that time hits. Or they might change it to something else (previously they offered a $20 bonus towards a new Kindle).