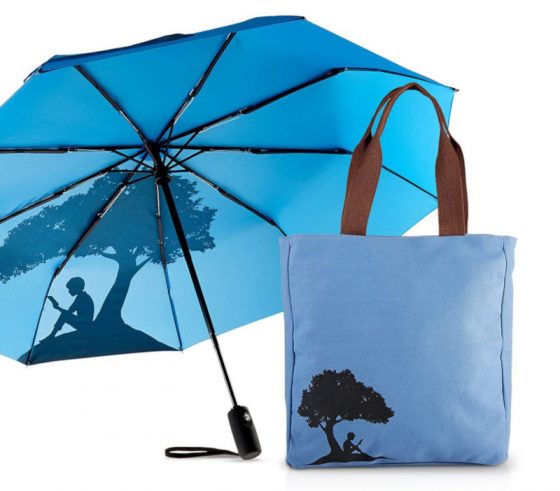 When you think about Kindle accessories, the first thing that comes to mind are things like covers, power adapters, stands, and perhaps screen protectors.
But what about less common accessories? Back in 2017 Amazon started selling Kindle Gear that's described as "certified made for Kindle accessories".
For the most part Amazon's Kindle Gear has largely gone unnoticed, possibly because the prices are rather high.
Or maybe it's because they are simply odd accessories for a Kindle.
Most people don't think of a water bottle or an umbrella as a Kindle accessory, but apparently Amazon does.
They also sell a few different bags, including a Kindle backpack, a Kindle tote bag and a shoulder travel bag.
There's also a ceramic Kindle coffee mug and a stainless steel travel coffee mug, and possibly the strangest Kindle accessory of all are these Kindle luggage tags.
The travel bag is the most popular item of the lot, with a 4.2-star rating and 105 reviews, and the Kindle tote bag has a 3.9-star rating with 52 reviews, but the other items only have a handful of reviews each. It makes you wonder why Amazon even bothered to sell such odd Kindle accessories in the first place. But if you ever wanted a Kindle umbrella, now you know such a thing actually exists—for some reason…