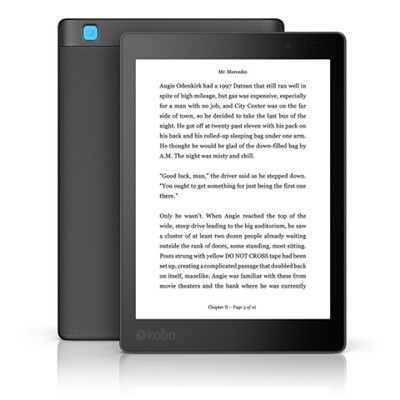 With the Kobo Forma getting released last fall, the writing was on the wall, and now it looks like the Kobo Aura One's run is officially coming to an end two and a half years after it was first released.
Kobo has a weird way of discontinuing their ebook readers—they remove the product page from their website and make it seem like it never existed.
They still have a support page for the Kobo Aura One, but the old product link just leads to a 404 Not Found page now.
In the US they still have the Limited Edition Kobo Aura One for sale at $279, the same price as the 8GB Kobo Forma, but the regular Aura One has been removed from Kobo's online store.
The same goes for Kobo's retailers, like Indigo in Canada, but Walmart still has the Aura One for sale in the US for the time being so it's not completely gone just yet.
The Kobo Aura One was the first ebook reader to come with a 7.8-inch 300 ppi E Ink screen, and it was also the first ebook reader to have a frontlight with adjustable color temperature.
I once considered it my favorite ebook reader, and it's still a nice device by today's standards.
One thing that's still puzzling about Kobo's sales strategy is they never once put the Kobo Aura One on sale. Not one single time in two and a half years. They put their other models on sale occasionally but never the Aura One.