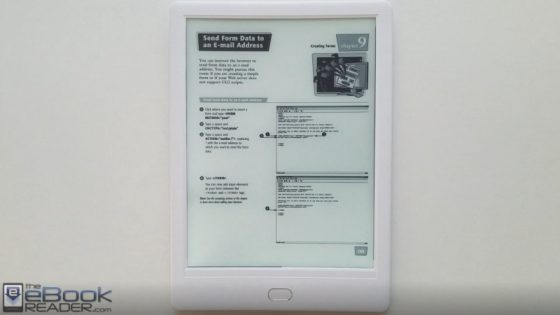 The Likebook Muses is a new Android-powered ebook reader with an octa-core processor and a 7.8-inch E Ink screen with adjustable frontlight color.
It has a Wacom touchscreen and comes with a stylus pen to write notes and drawings directly on PDFs.
Boyue has added some additional features to make reading PDFs easier than when I reviewed the Likebook Mars last fall.
Likebook's PDF app is better now, with more zooming modes and features. It's good to see them continuing to develop the app.
I don't usually recommend devices smaller than 10-inches for reading PDFs, but if you don't want to spend $500+ for a larger ereader, the Likebook Muses is one of the better ereaders for reading PDFs in the $300 range.
I still think Onyx's ereaders are the best option when it comes to reading PDFs because their software offers more features and overall performance is better, but the PDF software on the Likebook Muses is more advanced than most other E Ink ereaders out there.
PDF Features List
Table of contents.
Text reflow with adjustable font size and layout settings.
Add text notes and highlights (underlines).
Add handwritten notes with included Wacom stylus.
Dictionary lookup (StarDict).
Back button to go back to previous locations.
Bookmarks.
Contrast adjustment.
Zoom modes: auto, manual, page, width, scroll, pinch zooming, multicolumn mode with custom page forward zones.
Landscape mode.
Set tap zones and page refresh frequency.
Search.
Negatives
Handwritten notes overlap menus when viewing menus.
Can't use or view handwritten notes when using certain zoom modes.
Hyperlinks are not active, pressing them does nothing.
Selecting words doesn't work well; it will often highlight a single letter instead of the whole word, and trying to move the tiny start and end points is nearly impossible.
For having an octa-core processor it's not faster than a single-core Kindle when it comes to quickly paging forward—it often takes a second or two to load a page.
Running searches is also slow, and not easy to navigate.
No multipage view or sidenote feature like on Onyx's devices.
Notes and Wacom Touchscreen
Using the Wacom stylus comes with some limitations in terms of how you can use it to write on PDFs. Some preset zoom modes deactivate the ability to write on the screen, such as multicolumn view and fit-to-width view, and you cannot see any annotations that you previously added while using those zoom modes.
You can write on the screen using the fullscreen view of a PDF as well as auto and manual crop modes. You can also zoom in using pinch-zooming and write on the screen that way too.
With PDFs there are different options when it comes to writing on the screen than when using the Muses's built-in Note app.
With PDFs you have the option to use a pressure sensitive pen or one without pressure sensitivity; there are four line thickness options to choose from; you can use white or black line colors; and the eraser function erases full strokes, unlike the Note app with its track erase and range erase.
There is no undo/redo like with the Note app, and there are fewer line size options, and no option to move or resize. There's also no sidenote feature like Onyx's ereaders offer.
You can add highlights (they call them underlines) and annotations to PDFs using a finger (you can't use the stylus to select text because it only writes on the screen). You can view them from the menu along with all handwritten notes in thumbnail view. These all appear to be exportable via a link in the top corner that loads an Evernote page, but I don't have an account so I don't know how well exporting works.
You also have the option to export handwritten notes as a PDF or to Evernote, and you can choose to export a single page, only pages with notes, or the whole PDF with all notes.
Likebook Muses PDF Review Video