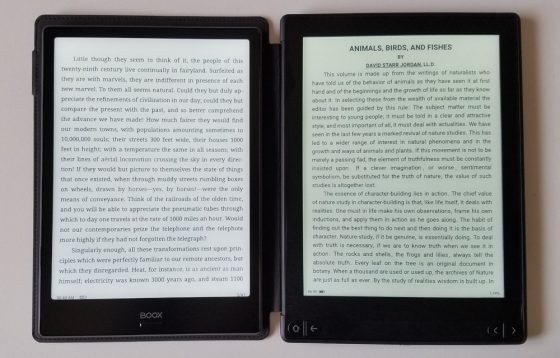 Last year when the original Onyx Boox Note was released, the biggest complaint was the fact that it didn't have a frontlight, and the same could be said about all the other ebook readers with larger 10.3-inch and 13.3-inch E Ink screens up until just recently.
But now we've finally got a couple of large ereaders with frontlights. The Likebook Mimas and Onyx Boox Note Pro were both released recently, and both have 10.3-inch E Ink screens with frontlights.
Both have frontlights with warm and cool color temperatures, and both can be blended, although it requires a separate app with the Likebook.
I got both models in this week to review, and I'm pleasantly surprised by how nice the screens look with the added frontlights.
With the larger screen size you would think that it would be harder to get the frontlights evenly distributed across the full screen, but the frontlights are mostly even on both of these units. They both have some brighter areas along the lower edge, but for the most part they're on par with the smaller Nova and Muses models.
I'll get a comparison review posted next week, along with some videos, so stay tuned for a closer look at these two large frontlit ebook readers!
So far I really like the Note Pro's upgraded design. I wasn't sure if I'd like the glass screen or not but it makes the build-quality feel more solid and gives it more of a premium look and feel. The Likebook Mimas is nicer than I expected too, and it adds page buttons and a microSD card slot. I don't know which one is "better" yet but it's good to finally have a couple of viable options for large screen ereaders with frontlights.