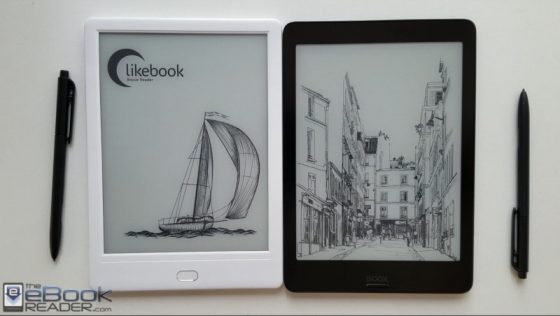 The Onyx Boox Nova Pro and Boyue Likebook Muses are two new Android ebook readers and digital notepads with a lot of similarities. It's almost like they're the same device out of two alternate universes.
There are a few distinguishing differences between the two but there are tons of overlapping features. The Likebook Muses can do most of the things the Nova Pro can do, but the Nova Pro has some additional software features that give it a slight edge.
The Likebook Muses has an octa-core processor and the Nova Pro has a quad-core processor but functionally there's not a noticeable difference in overall performance.
Cosmetically the two devices look quite different.
The Nova Pro has a flush glass screen with a black border and plastic back; the Likebook Muses has an indented screen with a white frame and a metal back.
But overall there are more similarities than differences.
Main Similarities
Both have 7.8-inch 300 ppi E Ink Carta screens.
They have 32GB of storage space and 2GB of RAM, and neither has a memory card slot.
Both have capacitive touchscreens and Wacom touchscreens.

They come with the exact same Wacom stylus and have similar Note apps, and overall writing performance is comparable.

They both run Android 6.0.1 and have Google Play access to install apps.
Overall speed and performance is similar.
Both have USB-C ports.
Both have Bluetooth and Wi-Fi.
They both have back buttons below the screen.
They have frontlights with similar warm and cool color temperatures.
They both have a basic appstore with a few reading apps included.
Both support ePubs, PDFs and a number of other formats.
Likebook Muses Advantages
Screen slightly clearer and sharper without the added glass layer, and global contrast adjustment tool helps text stand out more as well.
Better touchscreen responsiveness with both the capacitive touch and Wacom touch; sometimes the Nova Pro doesn't recognize presses and you have to tap again.
Hold back button to go Home, and you can set it for other things as well.
Adds onboard speakers and a mic, although the speakers sound terrible so that's not much of an advantage.
The white frame kind of blends in with the frontlight and gives it more of a white paper look.
Tracks reading time.
No unwanted ebook store taking up space.
Nova Pro Advantages
Much better built-in ebook app, with several additional features (sidenote, text-to-speech, multipage view, tabs, etc).
More features with built-in Note app, like converting handwritten notes to text, search, more line colors, add templates, stroke erase, Dropbox sync, etc.
Less limitations when writing on PDFs, and has more options.
Better frontlight uniformity, and easier to mix colors.
Highlighting feature has more options and works better overall, especially with PDFs.
Dictionary works without additional setup.
Better screen refresh, less ghosting.
Web browser better optimized for E Ink.
Onyx Boox Nova Pro Review – Part 1
Conclusion
Both devices are about 90% the same, but the Onyx Boox Nova Pro wins when it comes down to the fine details, and there really isn't anything the Likebook Muses does better from a software standpoint. But the screen does look a bit sharper without the glass layer, and the touchscreen seems to require less second presses. If they can fix some key details like the ebook app not respecting conventional standards then Boyue could end up being a strong rival to Onyx.
The Likebook Muses is still a solid device on its own. If it were cheaper than the Nova Pro or had some distinctive advantage like a memory card slot it would be easy to recommend, but the Nova Pro's software adds more features and is better optimized for E Ink so it gets the win in this comparison review.
Nova Pro vs Muses Video Comparison