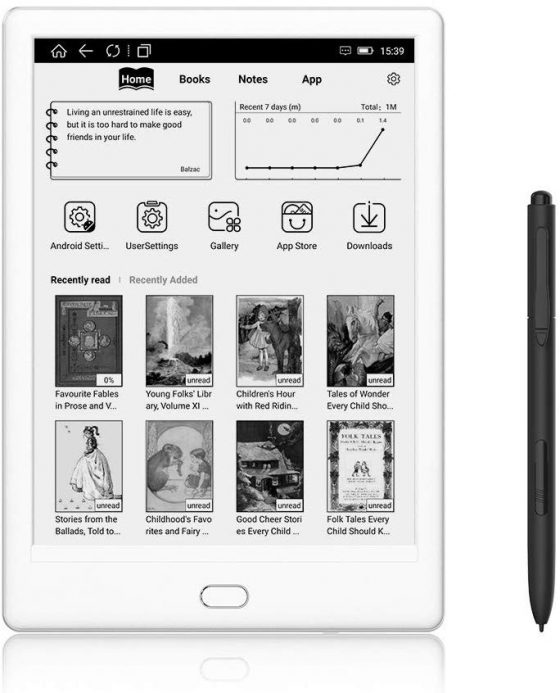 Review Date: March 2019 – Review unit purchased from Amazon
Overview
The Likebook Muses, model number T78D, is the latest Android-powered octacore-equipped ebook reader from Boyue, an ereader company based in China.
It's a lot like the Likebook Mars that was released last fall, but with an updated design and they added a Wacom touchscreen for writing on the screen.
The software and specs are largely the same but the Muses offers twice as much storage space with 32GB, except they inexplicably removed the memory card slot so that will undoubtedly disappoint some would-be buyers.
There's also the larger 10.3-inch Likebook Mimas coming soon. It looks like it's about 90% the same as the Muses, but with a larger screen, page buttons, and a memory card slot.
Hardware
The Likebook Muses has a 7.8-inch E Ink screen with 300 ppi. It has a frontlight with warm and cool light tones, but unlike some other ereaders the colors cannot be blended. The frontlight on my Muses is noticeably brighter at the bottom of the screen, which can be rather distracting, but I do like how the cool color has a white tone that kind of blends in with the white frame.
The build quality feel pretty solid. It has a metal back and I like the addition of the hardware button for going back (short press) and home (long press). The only issue I see is the front frame doesn't sit completely flat to the screen in places, and you can also see a black border on the screen just under the bezel.
Software
The Likebook Muses runs Android 6.0.1 and is open to install apps. It comes with a few apps pre-installed, including a basic appstore with a few reading-centric apps. Apparently it will come with Google Play access with a future software update.
Note App
For the most part, the built-in Note app is likely going to be the only notes application that works well with the Wacom stylus. As with other E Ink ereaders, 3rd party note apps like OneNote have too much lag when writing because they aren't designed to work with E Ink screens.
The Note app works pretty well. Lag is minimal enough that you don't really notice it. Writing on the screen feels pretty natural, and it works all the way to the edges, but with the hard screen it does have a slicker feel than writing on paper. You can use the back end of the stylus to erase, or you can select an eraser from the menu and use the tip to erase.
The description at Amazon says that the Muses can convert handwritten notes to typed text, but that feature does not exist with the latest software installed so I have no idea what they're talking about.
Note App Features List
Two pen types: one with pressure sensitivity, one without.
Two line color options: black and white.
20 line thickness settings.
5 eraser sizes.
3 eraser options: range, track, and all (with PDFs there's a stroke erase option that's oddly missing from the Note app).
You can circle an area to move and resize the selection.
19 note templates are included but there appears to be no way to add your own templates.
You can add multiple pages to a note, and view thumbnails of multiple pages at once.
Undo/redo.
Disable capacitive touch.
Copy/delete pages.
Export as PNG or PDF, and to Evernote.
Book App
The built-in ebook app has some issues. It's pretty good for PDFs (see this separate Likebook Muses PDF review) but when it comes to ebooks it's not very good. It butchers the layout of ebooks and uses its own bizarre formatting with a bunch of spacing issues. It will drop punctuation like apostrophes and periods to the following line, and hyphenation is terrible.
Luckily other ebook apps can be installed, but that's a topic for a different post. Personally I like KOReader a lot better than the default app, but for some reason the version they offer in the appstore never does a full page refresh, so that's far from ideal.
Likebook Muses Review
Pros
More advanced than a typical ereader, and for the most part the Android OS runs smoothly, although it could use better refreshing at times.
The Wacom touchscreen works well with the included Note app, and you can also write on PDF files.
The E Ink screen looks great; for some reason text appears slightly darker and sharper than it does on the Likebook Mars.
Cons
No memory card slot.
The frontlight is noticeably brighter at the bottom of the screen, and the frontlight colors can't be mixed.
The included reading app is good for PDFs but it's pretty awful for ebooks because it disregards conventional standards.
Verdict
I ended up liking the Likebook Muses more than I thought I would. The screen looks nice and the stylus works well with PDFs and the included Note app. If they would just fix the built-in reading app to respect an ebook's stylesheet it would be a lot better. People shouldn't have to rely on using 3rd party ebook apps on a dedicated ebook reader, but at least that is an option for those that prefer to use other apps.
Ultimately the very similar Onyx Boox Nova Pro is going to be the better device for most situations, but the Likebook Muses is a nice device too and it has its own kind of charm. There just isn't anything it does better than the Nova Pro. If it had a memory card slot that would probably be enough for most people, but I doubt most care about the addition of dual speakers and a microphone.
Likebook Muses Specs
7.8-inch E Ink Carta screen.
1404 x 1872 pixel resolution (300 ppi).
Wacom touchscreen with stylus, supports 4096 levels of pressure sensitivity.
Capacitive touchscreen (2-point).
Frontlight with option to use cool or warm color temperature (colors can't be mixed).
Android 6.0.1 operating system.
1.42GHz Freescale RK3368 octa-core processor.
32GB storage space (~26GB usable).
2GB RAM.
Wi-Fi.
Bluetooth 4.1.
USB-C port.
Dual speakers, mic.
Supported formats: EPUB, PDF, MOBI, TXT, FB2, HTML, PPT, DOC, plus more via 3rd party apps.
Weight: 285 grams.
Sells from Amazon for $319.
Likebook Muses vs Likebook Mars Comparison Review
Likebook Muses Video Review