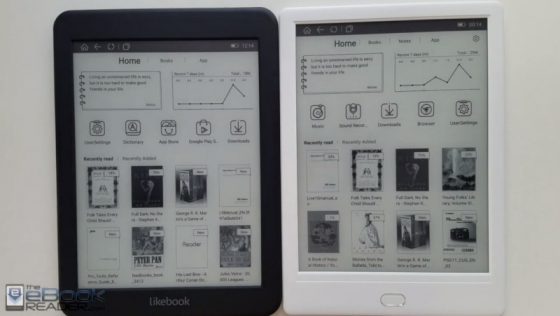 Boyue released the Likebook Muses last week. It's a lot like the Likebook Mars that I reviewed last fall, but there are a few differences worth noting.
Both devices run the same Android-based software that offers the same features for the most part, and both have the same general specs with a 1.5GHz octa-core CPU and 2GB of RAM, but the Muses does have twice as much internal storage space with 32GB.
The main difference with the Muses is they added a Wacom touchscreen to draw and write notes on the screen.
There's a Notes app that can export notes as .PNG files and you can also write on PDFs.
The Muses also has a different overall design with a hardware button below the screen that works as a back button with a short press and home button with a long press.
One big advantage for the Mars is it has a microSD card slot; for some reason they removed that on the Muses and replaced it with awful-sounding speakers. The Muses also has a USB-C port instead of the micro USB port on the Mars.
Both have the same 7.8-inch 300 ppi E Ink Carta display, but once again it goes to show that E Ink screens can vary a lot from one model to the next with different touchscreen and frontlight layers.
I was surprised by how different the two screens look in person.
The background color on the Likebook Muses is noticeably darker but somehow the text appears sharper and clearer.
Both devices are running the latest software available and both are using the same default font type, but things definitely appear a bit clearer on the Muses' screen, both with the frontlight on and off.
The frontlights are also slightly different, which is nothing new. The cool light on the Muses has a whiter tone, so along with the white frame it gives the page an overall whiter appearance that I rather like. The orange light is slighter darker on the Muses as well. The only problem is there is more light bleed on the Muses at the bottom of the screen, which may or may not be typical (you never know with frontlights).
Currently the Likebook Muses sells for $299 from Amazon (they already lowered the price from $329) and the Likebook Mars sells for $239.
If you don't need the stylus there's really no reason to pay extra for the Muses. The screen is a bit clearer but it's not a huge difference, and the lack of a memory card slot is perplexing when that was one of the main things separating Likebooks from Onyx's Android ebook readers. Speaking of which, I'll be comparing the Muses with the Onyx Boox Nova Pro next so stay tuned for more info!
Likebook Muses vs Mars Video Review