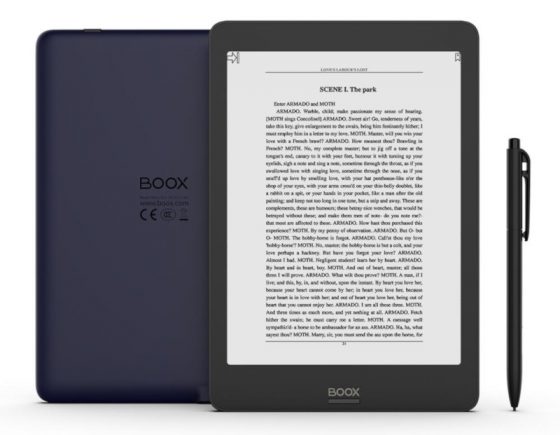 Today Onyx started accepting pre-orders for the upcoming 7.8-inch Onyx Boox Nova Pro.
They are selling it for $319 from the newly-launched Boox Shop, which is currently for customers in the USA only.
Unfortunately the Nova Pro isn't available from Onyx's Amazon store just yet, but it should show up there once it's in stock (they don't usually do the pre-order thing at Amazon for some reason).
Onyx just started this new web store but I don't see why anyone would want to order from there instead of from Amazon with their fast shipping and easy returns unless you want to be first in line to get the new Nova Pro.
Unfortunately they don't list a release date for the pre-order but under the shipping section it states that pre-orders will ship within 30 days, and shipping is estimated at 7-15 business days so apparently they're shipping it directly from China.
The Nova Pro has a 7.8-inch E Ink Carta screen with 300 ppi. It has a frontlight with cool and warm colors, and it has a dual touch screen that supports capacitive touch and it comes with a Wacom stylus for writing on the screen.
It has a quad-core 1.6GHz processor with 32GB of internal storage space and 2GB of RAM. It has a USB-C port, Wi-Fi, and it supports Bluetooth 4.1.
It runs Android 6.0 and has the ability to install 3rd party apps, and like Onyx's other models it does have the option to use Google Play, though it may take a bit of work to get it running.
Here's a link to an earlier video with a brief demo showing the Nova Pro in action. I plan on reviewing the Nova Pro and the larger Note Pro once they get released so stay tuned for more details.