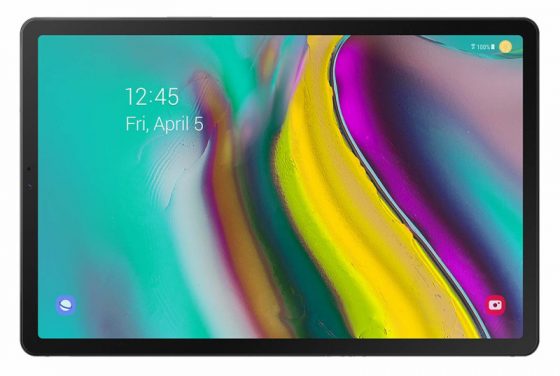 To no one's surprise, Samsung is releasing another round of new tablets again, ones with large high-resolution screens excellent for many forms of digital reading, among many other things of course.
There's a new premium model called the Galaxy Tab S5e with a 10.5″ Super AMOLED display that has 288 ppi. The tablet is surprisingly lightweight at 400 grams but what's even more impressive is how thin it is at just 5.6mm.
It has an octa-core CPU and 4GB of RAM, with a 8MP front camera and 13MP rear camera with support for 4k recordings.
Battery life is rated at up to 14.5 hours, and that's for videos (it should last considerably longer for reading).
The retail price of the Galaxy Tab S5e is $399 for the 64GB model and $479 for the 128GB version.
Samsung also just released some updated 10.1″ Galaxy Tab A tablets for 2019 that are competitively priced for a change. In fact they're the least expensive 10″ tablets that Samsung has ever released, starting at $229.
The new 2019 Galaxy Tab A has a 10.1″ display with 224 ppi. It has an octa-core CPU and 2GB of RAM, with a 5MP front camera and 8MP rear camera. The battery can last up to 13 hours for videos.
The retail price of the 32GB model is $229, the 64GB model is $279, and the 128GB model is $329. Once they start going on sale, as Samsung tablets often do, then the prices will be even better.
Both the Tab A and S5e models run Android 9.0 and both have microSD card slots to add up to 512GB of additional storage space. They also have GPS, Glonass, and Beidou support. Both have dual-band WiFi and Bluetooth 5.0.
You can find the full list of specs and features on Samsung's website: