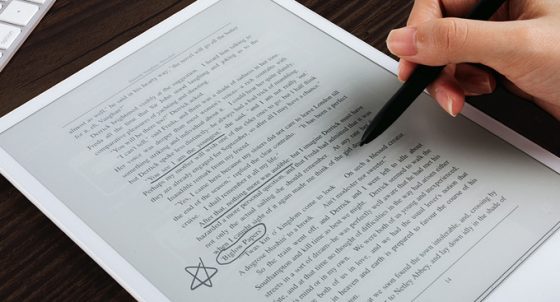 The Eewrite E-Pad is a new 10.3-inch E Ink ereader and digital notepad that runs Android, similar to the Onyx Note Pro and Likebook Mimas.
They first started accepting pre-orders on Kickstarter a couple months ago, and now they've started a second round of pre-orders for the E-Pad over on Indiegogo, with shipments expected to go out in September 2019.
The price starts at $494 but that one doesn't include a stylus (that adds another $25). There's also an option to upgrade to 64GB of storage space and 4GB of RAM for $549.
The base model has 2GB of RAM and 32GB of storage space, and there's a memory card slot.
The E-Pad is the first E Ink ereader to have a 10-core processor. It's also the first to support 4G LTE and feature a SIM card slot.
It has a Wacom touchscreen for note-taking and drawing, along with capacitive touch. There's Bluetooth, GPS, and Wi-Fi onboard as well. Plus it has a frontlight with warm and cool color temperatures.
The E-Pad runs Android 8.0 and comes with Google Play access to install apps. It supports a variety of ebook formats, including ePub, Mobi, AZW3, and PDF.
Aside from the SIM card slot and newer Android version, the E-Pad is largely the same as the Onyx Note Pro and Likebook Mimas, both of which are available now and I'm in the process of reviewing. Personally I'm skeptical about the E-Pad's software being on the same level as those models that have been under development for longer.
Here's an early video review of the Eewrite E-Pad for a closer at it in action. Check the Indiegogo campaign for more info and to see a full list of specs.
Early E-Pad Video Review