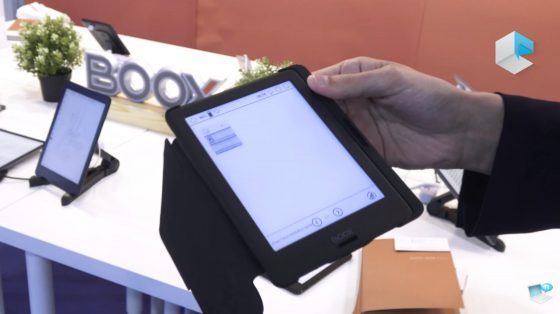 Onyx has developed a new 6-inch ebook reader with a unique design that adds page turn buttons to a removable cover.
At this point it's just a prototype and they're listening to customer feedback to see if it's something that people would like to have, but it certainly looks interesting.
There's a POGO pin connector on the back of the reader that connects to the cover.
When the cover is attached you can use the page buttons to turn pages.
They also decided to bring back a memory card slot because of popular demand (hopefully that's something they go back to with all future models).
Aside from the new design, the device is a lot like the Onyx Boox Poke that was released last year. It has a 6-inch screen with a frontlight that has adjustable color temperature, along with a quad-core CPU, but most of the specs are still undetermined since it's just a prototype.
What do you think? Do you like the idea of adding page buttons to the cover?
Personally I've always liked having page buttons so I'll take them anywhere they want to put them, although I wouldn't mind just being able to program the back button below the screen to use as a page forward button—no need for a special design or cover (you can use 3rd party apps to change the function of the back button, but the last time I tried that there was no option to set the button for paging).
via: Notebook Italia
Onyx Boox Viking Concept