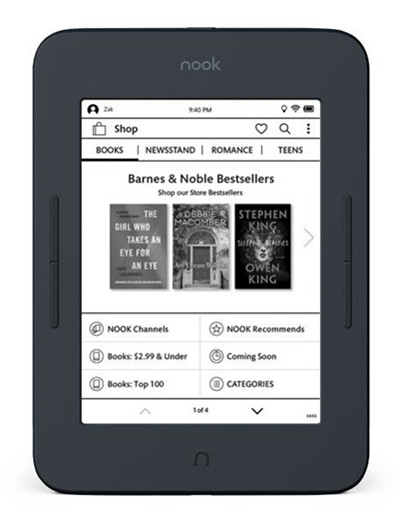 Barnes and Noble doesn't put Nook ebook readers on sale very often, but right now they have the Nook Glowlight 3 on sale.
Normally the Nook Glowlight 3 sells for $119 but B&N currently has it marked down to $95.99—that's 20% off.
The Glowlight 3 is the latest 6-inch Nook that was released in November 2017.
It has a 300 ppi E Ink screen and a frontlight with adjustable color temperature.
It also has 8GB of storage space and page buttons on both sides of the screen.
The Nook Glowlight 3 has slightly better contrast than the new 7.8-inch Nook Glowlight Plus because it uses an infrared touchscreen, but unlike the new Nook, the 6-inch model isn't waterproof and it doesn't support B&N audio.
The buttons are also a bit louder on the 6-inch model but for less than half the price you can't have everything.