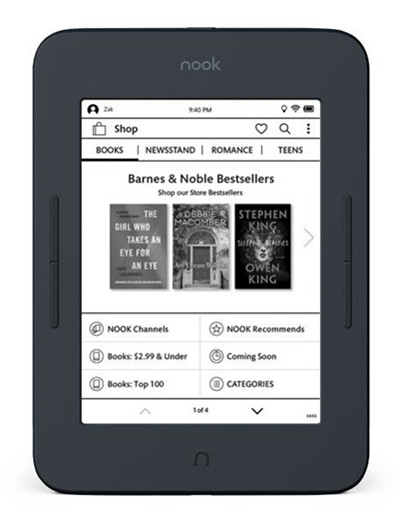 In case you haven't heard the news, Barnes and Noble has officially been sold to the same company that owns the Waterstones chain of bookstores in the UK.
James Daunt is expected to run both Waterstones and Barnes and Noble now. He managed to turn things around for Waterstones, the largest bookstore in the UK, but can he do the same for Barnes and Noble?
One big question that comes out of all this is what is going to happen to Nook tablets, Nook ereaders, and Nook books?
The Nook portion of B&N's business has been doing poorly for years. B&N has reportedly lost more than 1 billion dollars on the Nook. At one point Microsoft tried investing in Nook and ultimately lost hundreds of millions of dollars.
Given that, this new company, Elliot Advisors, may feel that the Nook part of the business is too risky.
One important factor to note is Waterstones used to sell ebooks before Daunt took over, and now they don't.
There are basically three ways things could go down.
1. They could decide to put an end to Nook hardware and Nook ebooks and focus solely on the paper book market.
2. They could keep things going the same as they are now, which means they'll mostly put Nook on autopilot while using a passive marketing approach and continue to make no improvements or do anything to bring in new customers.
3. They could start putting more attention into Nooks and try to grow the ebook side of the market more, give people a reason to trust Nooks again.
Either way this could be a big turning point for Nooks moving forward. Hopefully it doesn't spell the end of Nooks.