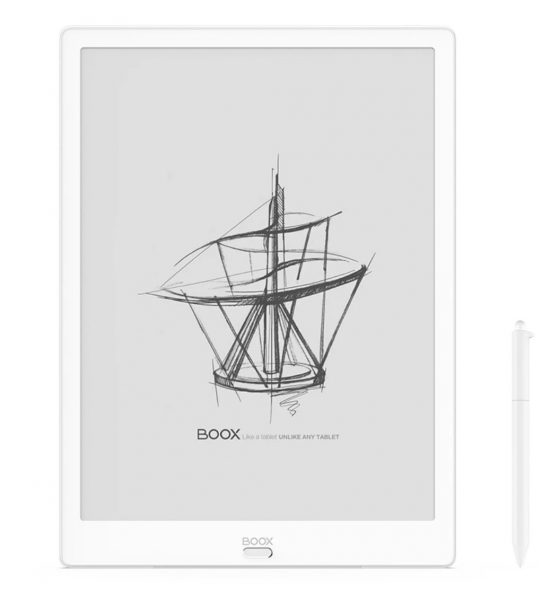 Onyx has just revealed a new 13.3-inch ereader, notepad, and E Ink monitor called the Onyx Boox Max3.
They updated the design so that it's similar to the Onyx Boox Note and Nova, except it's available in white instead of black.
They also added a fingerprint sensor to the Max3, and it supports USB OTG for external storage devices, memory cards, keyboards and such.
Among the biggest changes, it has a new Qualcomm octa-core 2GHz processor under the hood, and they've updated the software from Android 6.0 to Android 9.0.
Onyx says they plan to bring the Android 9.0 update to other models too, including the Max2, Nova and Note models, but that remains to be seen (Onyx has failed to deliver on similar promises in the past).
The Onyx Max3 has 4GB of RAM, 64GB of storage space, Wi-Fi, Bluetooth, and a 4300 mAh battery. It has a USB-C port and a micro HDMI port for the monitor feature, along with dual speakers and dual mics. It has a capacitive touchscreen and comes with a stylus for writing on the screen.
It has the same 13.3-inch E Ink screen with 207 ppi as previous Max models, but the Max3 has a flush front screen, not glass. Onyx says it has a PMMA-based screen that is shatterproof and supposedly provides more friction than glass to help make the writing experience feel more paperlike and natural.
The Max3 still lacks a frontlight. Knowing Onyx they'll probably release a Max3 Pro with a frontlight in 6 months, or maybe the screen is just too big for frontlights to work well.
The price of the Onyx Boox Max3 is $859.
Update: The Onyx Max3 is now available from the official Onyx Amazon store and it's shipping now.
Onyx Boox Max3 Promo Video