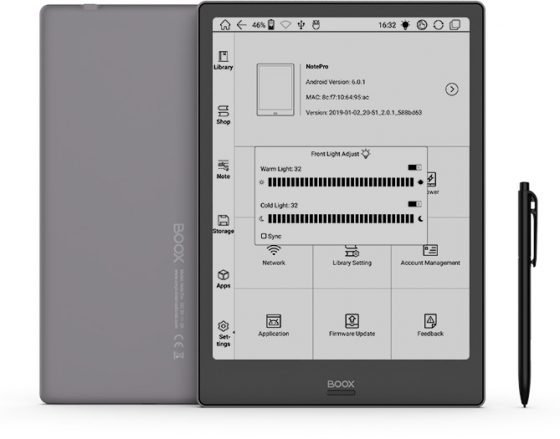 Review Date: May 2019 – Review unit purchased from Amazon
Overview
The Note Pro is Onyx's latest version of their "Note" model that was first released one year ago. It's the fourth different version of what is essentially the same device with a few tweaks along the way.
What differentiates the Pro model is the fact that it's the first to have a frontlight. The light has warm and cool colors that can be blended.
The Note Pro also has twice as much storage space and RAM as earlier models, with 64GB and 4GB respectively.
Otherwise it's exactly the same as the original Note, except the Note Pro adds a scratch-resistant glass layer over the front of the 10.3-inch E Ink screen, and the back is a different color.
The Onyx Boox Note Pro sells for $599 USD from Onyx's Amazon store. That's $50 higher than the original Note sold for when it was released last year, but it's now priced $100 lower at $449.
Onyx has a 13.3-inch option as well, with the Max2 and Max2 Pro, but they lack a frontlight. There's also the smaller Nova Pro with a 7.8-inch screen. It has all the same features as the Note Pro at a smaller scale for nearly half the price.
Hardware
The Onyx Boox Note Pro has a 10.3-inch E Ink screen with a resolution of 1872 x 1404, which equates to 227 ppi. It has a flexible Mobius Carta display but there isn't any flex with the added glass layer over the front of the Note Pro.
I was skeptical about the glass screen at first, having used the original Note for the past year, but actually the glass has more advantages than negatives.
First off, the contrast is actually better with the glass screen than it is on the 1st gen Note with the screen protector, as noted in this comparison review.
The rigidity of the glass also helps make the Note Pro feel more solid and durable. My main complaint about the original model was the build quality was kind of flimsy, and it was possible to damage the screen if you pressed down too hard, but that's not an issue with the Note Pro—the glass isn't susceptible to scratches and gouges like the original version.
The writing experience with the Wacom stylus feels a bit different with the hard glass—slicker than writing on paper, but I had already adjusted to it from reviewing the Nova Pro prior. The screen doesn't have thick texture like the Sony DPT-CP1 to give it that papery feel, but there seems to be some kind of micro texture that interacts with the stylus tip because it has more of a scratchy feel than you'd expect from a glass screen—it feels a lot more natural than using the iPad's stylus with the super hard plastic tip.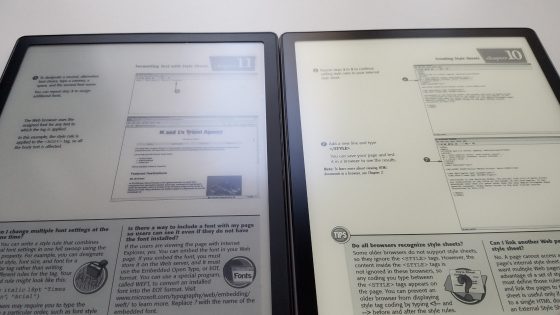 The Note Pro is one of the first large ereaders to have a frontlight. It has both warm and cool color temperatures and you can mix the two. Overall the frontlight looks quite good on the Note Pro, and there's a wide range of brightness settings. There are some slightly brighter areas and a small shadow along the bottom edge but they are subtle. Having a frontlight makes a big difference in overall readability compared to the original Note, though, so it's a pretty big upgrade.
Battery
Taking notes, browsing the web, using Bluetooth, listening to music, using 3rd party apps are all going to drain the battery a lot faster than simply reading text. So how is anyone supposed to give any kind of accurate battery life estimate?
It depends entirely on how you use the device. If you're using it like a tablet the battery will drain like a tablet—maybe even faster. I just did a battery life test running a YouTube video in the web browser with A2 mode turned on and the battery meter went down 5% in 10 minutes. Yikes! But if you using it as an ereader the battery can last for several days, maybe even a couple of weeks.
Software
Editor's Note: This section is mostly a reprint of the Nova Pro review. The Note Pro has a bigger screen and twice as much RAM, which makes it a bit faster, but when it comes to the software features it's like reviewing the same device twice.
The Note Pro runs Android 6.0.1 and is open to install apps. It comes with a few apps pre-installed, including a basic appstore with a few reading apps and some other apps for easy access. You can also enable the Google Play store from settings, which requires a few extra steps to setup.
Just keep in mind that 99% of Android apps aren't designed to work with E Ink screens so it's common to encounter problems with the screen not refreshing properly and some things being hard to read. Onyx does offer some optimize settings for 3rd party apps that does help. For instance, you can increase contrast to make text bolder and easier to read. That helps make the Kindle app work pretty well since the 2.1.1 update.
Note App
Onyx's Note app works quite well and they've added some new features to it with the last update, like the ability to convert handwritten notes to typed text.
The conversion feature is pretty cool but it still needs some work. It doesn't recognize line breaks so everything gets jumbled together in one big block of text, and sometimes word spacing isn't correct.
The Wacom touchscreen works well—writing is fast and accurate. With the glass it has a slicker feel than writing on paper but you get used to it after awhile and you don't have to worry about the glass scratching.
Again, 3rd party note apps like OneNote work very well because they aren't designed to work with E Ink screens and have too much lag when writing. However, you can sync your notes with OneNote.
Note App Features List
Two pen types: one with pressure sensitivity, one without.
Five line color options: black, white, red, blue, green (the latter three only appear that color when exported).
20 line thickness settings.
Insert straight lines, circles, triangles and squares.
5 eraser sizes; you can hold a button on the stylus to erase with the tip or turn it around and use the end to erase like a pencil.
3 eraser options: moving eraser, stroke erase, and erase all.
You can circle an area to move and resize the selection.
Enter typed text.
Convert handwritten notes to typed text.
Search notes (it can recognize handwritten text).
16 note templates are included and you can add your own custom templates.
You can add multiple pages to a note and view thumbnails of all note pages.
Undo/redo.
Go fullscreen to remove menus.
Disable capacitive touch.
Share notes using QR code.
Export as PNG or PDF.
You can sync notes to Dropbox, Evernote, OneNote, and Youdao.
eBook App
Onyx's built-in Neo Reader app is actually quite good, much better than the default app on other Android ereaders. It supports a number of formats and offers a wide range of features. They just updated it to version 3.0, which has a new look and some new features, including the option to view two pages at once in landscape mode.
Onyx's software is especially good with PDFs and you can write directly on PDFs using the Wacom stylus. See this separate Note Pro PDF review for more details.
The only thing I don't like about the Neo Reader app is the font choices are poor. Most of the fonts look exactly the same despite having different names, and it's like they just threw a bunch of random fonts together with no regard for E Ink optimization. Some are labeled serif that are clearly sans-serif and vice-versa. But at least you can easy sideload additional fonts by placing a "fonts" folder on the root directory.
One interesting observation, Onyx seems to have dropped Adobe DRM support. They used to have the option to add your Adobe ID in settings but that option no longer exists and the Adobe Reader app is no longer installed.
eBook App Features List
You can have up to 4 documents open at once and switch between them with tabs at the top of the screen.
You can set custom tap zones for paging and accessing the menu.
Text-to-speech is supported.
Set page refresh frequency and switch between normal refresh mode and fast refresh.
Adjust the frontlight.
Bookmarks.
Adjust font size, type, encoding
Adjust line spacing and margins; adjust contrast for text and images.
Landscape mode, with the option to use two page landscape mode.
Sidenote feature to add a note page to write with the stylus.
Jump chapters, enter page numbers, with history for going back and forth.
View 4 or 9 pages at once.
Table of contents.
Add highlights, underlines and text notes—all are exportable.
Dictionary lookup using StarDict.
Search.
Online lookup (you can add different sources and set one as a default).
Onyx Boox Note Pro Review
Pros
Finally a nice large-screen ereader with a frontlight!
The glass screen makes the Note feel more like a premium device, and helps make it more durable.
It's a lot more advanced than a typical ereader with the added note-taking features, solid PDF support, competent web browser, and the ability to install other reading apps if needed.
Cons
Really expensive.
I wish it had page buttons and a memory card slot like the Likebook Mimas.
The glass screen lacks that textured papery feel that the Sony Digital Paper devices and Remarkable have.
Verdict
The Onyx Note Pro is the best version of the Note model yet (and I personally consider it the best 10.3-inch ereader on the market). The frontlight makes a huge difference in overall readability, and with the glass screen the build quality now feels like what you'd expect when paying a premium price.
The Note Pro isn't perfect—the user interface is awkward at times and the device would greatly benefit from having more physical buttons and expandable storage—but it does a lot of things well, from note-taking to reading ePub and PDF ebooks—the Kindle app even works acceptably—and the 10.3-inch screen is a great size for larger content without being as unwieldy and as expensive as 13.3-inch devices.
At $599 the price probably seems outrageously high to most people, but that's just the nature of the market at the moment. It's the same price as its main competitors, the Sony DPT-CP1 and Remarkable, and both of those lack frontlights and have far fewer software features. You can get the same features with the Onyx Nova Pro for nearly half the price if you don't mind stepping down to a 7.8-inch screen, but the larger 10.3-inch screen does make a big difference for things like PDFs and note-taking.
Onyx Boox Note Pro Specs
10.3-inch E Ink Mobius Carta screen.
1872 x 1404 pixel resolution (227 ppi).
Wacom touchscreen with stylus, supports 4096 levels of pressure sensitivity.
Capacitive touchscreen (2-point).
Frontlight with cool and warm color temperatures.
Android 6.0.1 operating system.
Cortex-A17 1.6GHz quad-core processor.
64GB storage space.
4GB RAM.
Wi-Fi (802.11b/g/n).
Bluetooth 4.1.
USB-C port.
Speakers, mic.
4100mAh Li-Polymer battery.
Supported formats: EPUB, PDF, MOBI, TXT, FB2, HTML, DJVU, RTF, DOC, CHM, plus more via apps.
Dimensions: 249.5 x 177.8 x 7.1mm.
Weight: 390 grams.
Sells from Amazon for $599.
15 Tips and Tricks for Onyx eReaders
Onyx Note Pro Video Review