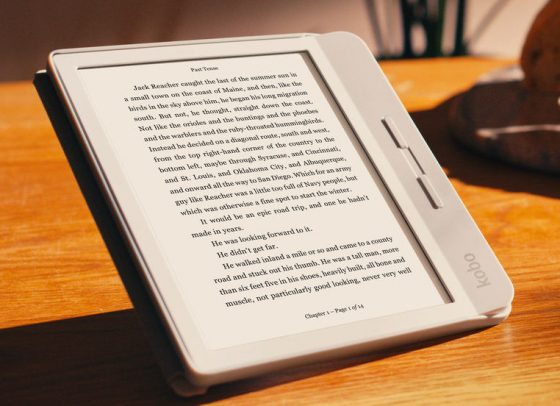 When Kobo announced their latest new ebook reader earlier this month, the Kobo Libra H2O, they also revealed some new software features that will be available on it.
The new software features won't just be limited to the Kobo Libra; the updated software will be getting released for other Kobo models as well.
In fact some folks are already trying out the new software for the Kobo Libra on earlier Kobo devices.
There's a thread at MobileRead with a download link for the new software and a discussion about the new features.
The update is basically the pre-release version for the new Kobo Libra, version 4.16.13337, but it'll work on other Kobos as well. However, the official update for other models hasn't been released yet, but it'll probably get released in a week or two with a new version number. See the thread for more details.
The new software has an updated reading interface with new header and footer options, and some new navigation features, among other things.
Here's more about the new features from Kobo's press release regarding the announcement of the Kobo Libra.
New features include:

Enhanced eBook scrubber: The scrubber has been updated to represent the entire eBook rather than a single chapter. Easily flip back and forth through your eBook without fear of losing your spot—your previous page is noted by a black breadcrumb for easy return.
Page previews: A preview of pages viewed using the eBook scrubber will now appear as you skim. Use the preview page to quickly scan other parts of the book, and easily navigate to that page by tapping the preview window.
Updated headers and footers: Headers and footers display chapter and book progress simultaneously, so you know where you are in your eBook at all times.
Progress bar: A thin black bar at the bottom of the eReader will now help you understand at-a-glance where you are in your eBook.
Improved in-book menu: Swipe up from the bottom of the page to open the new in-book menu. For better location awareness in your eBook, the scrubber now appears as part of the menu. Annotations (notes, highlights and bookmarks) are easier to access, by tapping the annotations icon at the bottom of the screen.