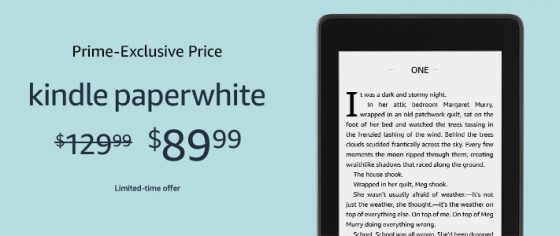 Amazon has kicked off another round of Kindle sales for the next week. They also have Fire tablets on sale, the 7 and 8-inch models (the Fire HD 10 is likely getting replaced with a new model next week).
The Kindle Paperwhite is marked down to $89.99 ($40 off) for the 8GB version and $114.99 ($45 off) for the 32GB model, the entry-level Kindle is $64.99 ($25 off), and the previous generation Kindle Oasis starts at $174.99 ($75 off).
They also have the cellular version of the Kindle Oasis 2 marked down to its lowest price ever at $251.99, which is $98 off the regular price.
But on the negative side, the sale is once again exclusively for Amazon Prime members. It's been over 3 months since Amazon has had a Kindle sale for non-Prime members.
If you aren't a Prime member and still want to get a good deal on a Kindle, you can always use Amazon's 30-day free trial for Prime and then cancel before the end of the trial.
It's a bit of a hassle to deal with but it's not very fair that Kindles are only going on sale for Prime members lately.
The deals end at 5:00 pm PDT on September 22nd, 2019.