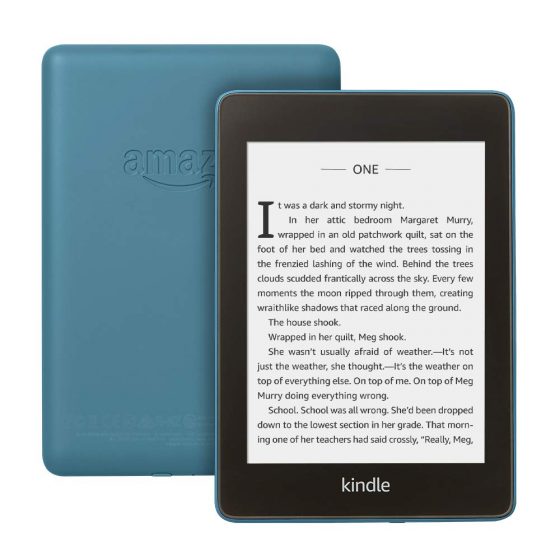 Amazon has put the Kindle and Kindle Paperwhite on sale again for the holiday shopping season. The prices aren't quite as low as their Black Friday and Cyber Monday deals, but you can still get up to $35 off the regular price.
The new Kids Kindle is on sale too, and the 32GB Kindle Oasis 2 remains on clearance for $149 with free shipping and it includes a $5 ebook credit.
In fact the Kindles that are on sale all include a $5 ebook credit.
Amazon's official Kindle covers are still on sale as well, and they've got some ongoing deals on Kindle Unlimited subscriptions.
The 8GB Kindle Paperwhite is marked down to $99.99 with this sale, which is $30 off the regular price. Oddly the blue version costs $5 more than the black version.
The entry-level Kindle is on sale for $69.99 ($20 off) and the Kids Kindle is $84.99 ($25 off).
Like usual you can make use of Amazon's Kindle trade-in deal to take an additional 25% off the sale prices.
Kindle Deals
Kindle Oasis 2 – $149.99 ($130 off) 32GB model
Kindle – $69.99 ($20 off)
Kindle Paperwhite 4 – $99.99 ($30 off) 8GB model
Kindle Paperwhite 4 – $124.99 ($35 off) 32GB model
Kindle Paperwhite 4 – $214.99 ($35 off) 32GB model with 4G LTE
Kids Kindle – $84.99 ($25 off)
Kindle Paperwhite 2 – $39.99 refurbished
Kindle Covers on Sale
Kindle Fabric Cover – $22.99 (23% off) – (2019 Kindle)
Kindle Paperwhite Premium Leather Cover – $44.99 (25% off)
Kindle Paperwhite Leather Cover – $29.99 (25% off)
Kindle Paperwhite Fabric Cover – $22.99 (23% off)
Kindle eBook Deals
Deal of the Day: Get digital magazine subscriptions from $2.75 – 12/7 only
3-Month Kindle Unlimited Subscription for $0.99
Kindle Unlimited Gift Deal – 33-50% off