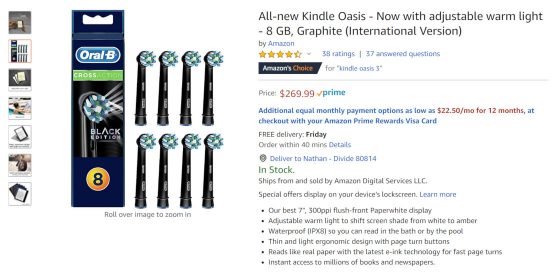 This is a stupid thing to post an article about, but seeing the Kindle Oasis listed with a picture of a toothbrush is worth a laugh.
Somehow a picture of electric toothbrush replacement heads got mixed in with the pictures for the Kindle Oasis over at Amazon.
It's on the page for the International Version of the Kindle Oasis that Amazon sells abroad.
If you run a search for "Kindle Oasis" a picture of toothbrush replacement heads is one of the top results.
Of all the the pictures posted on the Kindle Oasis page, it's funny how the system chooses the toothbrush picture to list in search results. Even the auto-generated Amazon ad at the bottom of this post sometimes shows the toothbrush picture.
It's not unusual to see the wrong pictures listed on the occasional page at Amazon, but it usually doesn't happen with Amazon's own products, especially when Amazon is the only seller.
I had no idea the Kindle Oasis also doubled as a toothbrush. Does it come with a tube of toothpaste as well? For $269 they probably should throw in some bonus items.