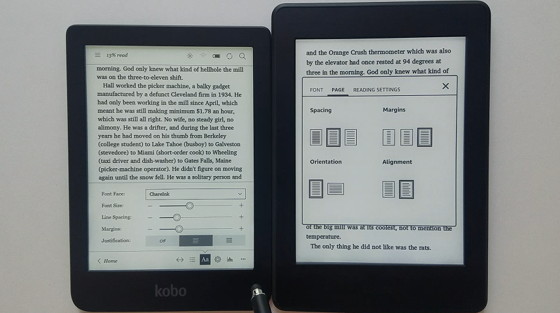 A few years ago the landscape of dedicating reading devices was fairly bleak, especially in the Kindle-dominated United States.
Amazon just kept re-releasing the same 6-inch Kindles over and over again. Kobo was also stuck on the same general design for many generations before releasing the Kobo Forma.
There was very few large ebook readers to choose from at all.
Confidence in Barnes and Noble and Nooks was at an all-time low (some may argue that's still the case but B&N releasing the 7.8-inch Nook Glowlight Plus last year was a popular move with Nook fans).
Things still aren't great in terms of choices when it comes to dedicated reading devices in 2020, but the last few years have at least brought in some new options.
People have been wishing for another large Kindle since the Kindle DX was discontinued, and while Amazon still refuses to budge on that regard, at least they finally did release a Kindle with a screen larger than 6-inches.
It took longer than it should have, but Amazon also finally listened to customers about adding a warm frontlight to Kindles with the Kindle Oasis 3.
Kobo finally changed up their repetitive button-less designs with the release of the Kobo Forma and Kobo Libra. Now they offer three different sizes of reading devices (four if you count the Kobo Aura One, which they still sell in the US).
It wasn't long ago when large ereaders were on the verge of becoming extinct. Then Sony released their 13.3-inch Digital Paper devices, and while they were super expensive at first and only available in Japan initially, they helped resurrect large reading devices.
After that other companies like Onyx starting releasing 13.3-inch ereaders of their own, and then soon more less expensive 10.3-inch models started showing up. There are also more options for Android-based ereaders than before between Onyx and Boyue.
There still aren't a lot of choices for E Ink devices in the US, mostly thanks to Amazon's dominance, but there are more options than there were a few years ago.
What do you think? Are you satisfied with the current choice of ebook readers in 2020?