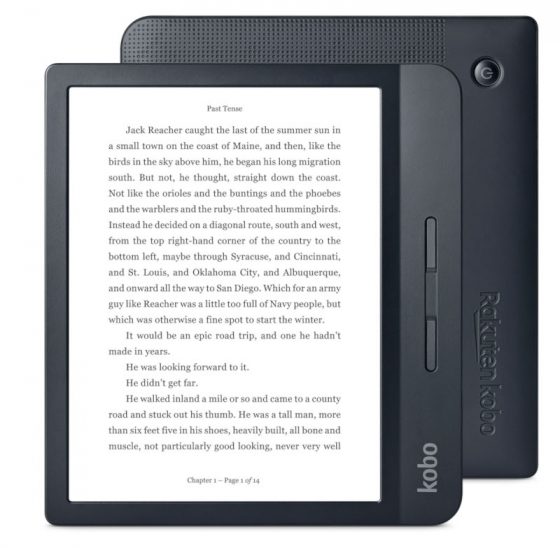 Review Date: October 2019 – Review unit purchased from Walmart.com
Overview
The Kobo Libra H2O was released on October 17th, 2019.
It's the first Kobo ereader to have a 7-inch E Ink screen, the same screen as the Kindle Oasis, and it's the second Kobo model to have a design with the page buttons on one side of the screen.
On the surface the Kobo Libra looks like a smaller version of the 8-inch Kobo Forma that was released last year, but there are some key differences between the two.
The Forma is more of a premium model with a flush front screen, it also has a lightweight and durable plastic-based E Ink screen, and the build quality is a bit nicer.
The Kobo Libra is more of a mid-level model. It sells for $169 from Kobo and Walmart in the US. It's available in both black and white, and unlike the Forma, it's available in an 8GB version only.
Kobo Libra Review
Pros
Comfortable to hold from the side with a thumb resting on a page button.
Reasonable price for a 7-inch ebook reader that's waterproof with a color-adjusting frontlight.
With the exception of built-in Dropbox support, it has all the same features as the more expensive Kobo Forma.
Cons
Frontlight imperfections with noticeable gradient and ugly greenish cool color (it probably varies from one to the next).
The wider design is more comfortable to hold but the larger size makes it less pocketable/portable.
Verdict
I enjoy reading on the Kobo Libra. To me it's more comfortable to hold than the Kobo Clara HD with the tiny bezels and I like having page buttons.
I'm also a big fan of the 7-inch screen size for reading ebooks; I like how the text lays out at the font size I use. A 6-inch screen just seems a bit cramped by comparison.
My only real complaint with the Kobo Libra is the same complaint I had with the Kobo Forma: the uneven frontlight. But it's worse on the Libra, and the cool color has a sickly green tone to it.
Either Kobo can't get frontlights right or they have questionable quality control, and it's compounded by the fact that these aren't sold in stores in the US so you can't go somewhere to test one in person. If you're going to buy a Kobo just make sure to get it from somewhere you can easily return it if you happen to get a bad one like I did.
Kobo Libra Video Review
Kobo Libra vs Kindle Oasis Comparison Review
The Design
The Kobo Libra is the second Kobo to have an asymmetrical design with the page buttons situated on one side of the screen, the Kobo Forma being the first.
The Libra feels nice and comfortable in your hand, but it's a bit cheaper-feeling than the Forma, which isn't surprising considering the Forma sells for $250. The Libra has an indented screen (capacitive touch, not infrared) and the back has a slight rubbery coating on it.
Fortunately they removed the super stiff power button on the Forma and placed it on the back where it's out of the way and not easy to accidentally press. In fact sometimes you have to hunt for it when the orientation changes and it goes from the top left to the bottom right.
The Kobo Libra also has a typical glass-backed E Ink screen so it's not going to be as durable as the Kobo Forma with the flexible Mobius screen.
Unfortunately still no USB-C on a Kobo. It's a bit surprising they still haven't added audio support too considering that Kobo sells audiobooks now. Amazon seems to think audiobook support on Kindles is a big deal.
Frontlight
The first thing I thought was I haven't seen a frontlight this bad since the first Kindle Voyage I had (the frontlight on the one I have now is quite good). The cool color has a weird greenish tint to it with an obvious gradient from left to right.
There's also sort of a dark blob in the middle on the button side. It's a bit better at the warm end of the frontlight spectrum, but to me the gradient is too distracting when one side of the screen is clearly a different color than the other side.
On the plus side there is no PWM flicker like on the Kobo Forma (which some people seem to think matters but since it's at 1KHz others claim it doesn't).
Software
Kobo's ebook readers all run the same software with just minor differences between models (like they recently added Dropbox support to the Forma but not the other models, though it may come in time like OverDrive support did).
Kobo updated their software with the release of the Kobo Libra to add some new navigation features with some UI changes as well. You can now view previews of pages in a popup window
They also changed how headers and footers work. You've got new options for reading progress, and you can also disable the header and footer to get more text on the screen if you'd like.
All current Kobo models have OverDrive support built-in to download free ebooks borrowed from public libraries directly from the Kobo store. Kobo's also support Pocket to send web articles to your device.
One of the advantages with Kobo ereaders is they are open to installing other ebook programs and custom patches and mods. Check the Kobo section at MobileRead for the latest developments.
Kobo Reading Features Explained
Notes and Highlights: Hold down on a word and drag to bring up the option to highlight and add text notes using the onscreen keyboard. There's an annotations list to view them. There's no option to export unfortunately.
Bookmarks: When reading an ebook, tapping the upper right hand corner adds and removes bookmarks. They can be viewed, shared, and edited from the annotations list.
Fast Page Scan: If you press and hold in the lower corner of the screen or with either of the page buttons you can quickly flip through pages. It only works with ebooks in Kobo format (.kepub).
Font Choices: The Kobo Libra offers 11 font choices and over 40 font sizes. Font weight can be adjusted to darken text. You can also sideload your own TTF and OFT fonts by placing them in a folder titled "fonts" on the Kobo drive, but you can't adjust weight with sideloaded fonts without a patch. Pre-installed font choices include: Amasis, Avenir Next, Caecilia, Georgia, Gill Sans, Kobo Nickel, Malabar, AR UDJingxihei, Kobo Tsukushi Mincho, Kobo UD Kakugo, and OpenDyslexic.
Text Adjustment: All Kobo ereaders offer line spacing and margin adjustment for ebooks. There's also the option to choose full justification, left justification, and you can turn justification off. These don't always work with sideloaded books, however.
Dictionary: Holding down on a word opens a dictionary window. From there you can choose different dictionaries and translation dictionaries. 22 different dictionaries are available in the settings menu. The dictionary text is quite small but you can increase it by switching to Large Print Mode from Settings > Beta Features.
Search: You can run searches within ebooks for specific terms and easily navigate around the book using search. You can also highlight a word or phrase while reading and then choose to search Wikipedia or Google and a window will popup to open the browser.
Navigation: There's a table of contents for navigating through an ebook, along with a page dial to jump by pages and chapters.
Reading Stats: Kobo ereaders offer reading stats that provide information about how long it will take to finish an ebook and chapter based on your reading speed. It shows book progress, chapter progress, average minutes per reading session, average pages per minute, total hours reading, and the percentage of total library read. There's an indicator while reading that shows upcoming chapter length too. Works only with Kobo ePubs.
Reading Awards: There's a section for reading awards. You can earn various badges for accomplishing certain tasks and goals. Works only with Kobo ePubs.
OverDrive Support:All current Kobo ereaders now support OverDrive for getting free ebooks from public libraries. Available in Canada, the United States, the United Kingdom, Australia, and New Zealand.
Pocket Integration: Kobo ereaders work with Pocket, a service that can send web articles that you've tagged online to your Kobo device. The articles get reformatted to display better on mobile devices.
Landscape Mode: The Kobo Libra offers landscape mode for reading, but not the homescreen or anywhere else.
Partial Page Refresh: In the settings menu you can set E Ink page refresh from 1 to 10 pages or at every chapter.
Page Refresh: In the settings menu there are different tap zones that you can set to page forward, back, and open settings.
Beta Features: From the settings menu there's a beta features section. It includes a basic web browser and large print mode.
Kobo Libra H2O Specs
7-inch E Ink Carta display.
1680 x 1264 resolution, 300 ppi.
Frontlight with adjustable color temperature.
Capacitive touchscreen with 2-point touch.
Waterproof (IPX8 rated – up to 60 mins in 2 meters of water).
8GB internal memory.
Wi-Fi 802.11 b/g/n.
Micro USB port.
Screen rotation sensor.
Supported formats: Adobe DRM, EPUB, EPUB3, PDF, MOBI, JPEG, GIF, PNG, BMP, TIFF, TXT, HTML, RTF, CBZ, CBR.
Battery: 1200mAh.
Languages supported: English, French, German, Spanish, Dutch, Italian, Brazilian, Portuguese, Japanese, Turkish, Danish, Norwegian, Finnish, Swedish, Chinese.
Weight: 192 grams.
Dimensions: 144 x 159 x 7.8-5.0 mm.
Price: $169 USD from Kobo.com and Walmart.com .