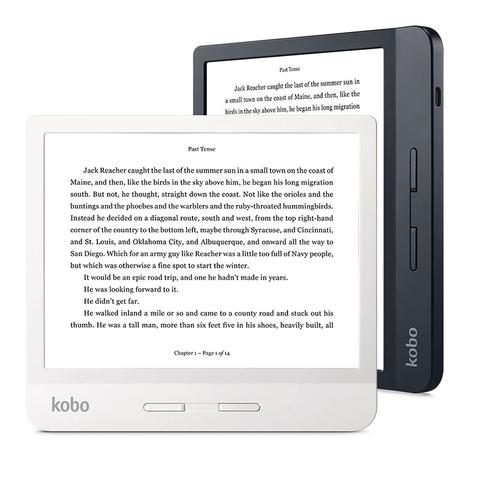 Coinciding with the release of the new 7-inch Kobo Libra H2O, Kobo has officially released a new software update for their lineup of Kobo ebook readers past and present.
As noted last week, the new software features that come on the Kobo Libra are now available on all the other Kobo models as well.
The firmware update, version 4.17.13651, adds some new navigation features and an updated user interface, with new header and footer options.
They also added support for six more languages (listed below).
With Kobo updates you can either wait for the update to automatically download and install when syncing, which can sometimes take a few weeks because Kobo rolls out updates slowly to different regions and affiliates, or you can install the update now manually.
See this forum post at MobileRead for the download links and a discussion about the new firmware. There's also this Kobo Firmware Downloads page.
Here's the release notes for the 4.17.13651 update:
Enhanced eBook navigation
We listened to Kobo readers who asked for better ways to move around in a book and easily find their way back. We want you to get lost in the story, not in the book!
Know where you are in your book
Updated headers and footers: Headers and footers now display both chapter and book progress, so you know where you are in your book at all times.
Progress bar: Understand where you are in your book at a glance, with a progress bar at the bottom of each page.
You can customize your page layout by visiting Reading settings
Jump back and forth with ease and confidence
While reading a book, tap the middle of the page to get started
Improved in-book menu: An improved book scrubber now appears as part of the menu. From here, you have access to Settings and Navigation controls.
Enhanced eBook scrubber: Updated to represent the entire book instead of just one chapter. Flip back and forth without fear of losing your spot. Your previous page is noted for easy access.
Page previews: Quickly reference and navigate to other parts of your book with page previews while using the scrubber when jumping between chapters.
New languages
We've added support for new languages. Tap ≡ and go to Settings > Language to switch languages.
Danish
Finnish
Norwegian
Swedish
Traditional Chinese (Hong Kong)
Traditional Chinese (Taiwan)