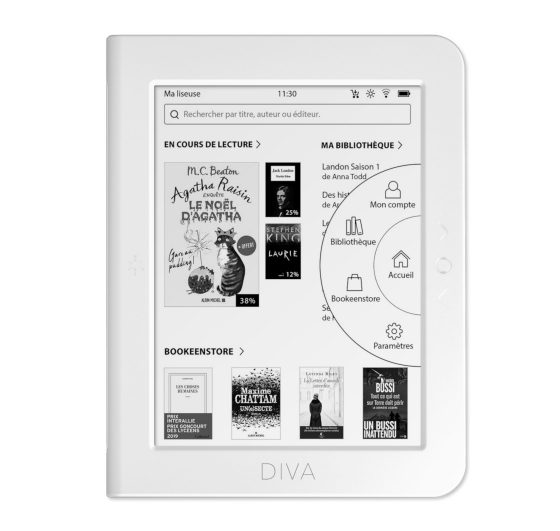 A few months back Bookeen, a long-standing ereader company based in France, released a couple of new ebook readers called the Diva and the Diva HD.
They have new software and a new design that Bookeen apparently spent 3 years developing, and they're the first ebook readers to support a new open source DRM for the French ebook market.
Bookeen's Diva ereaders support Adobe DRM as well.
The Diva is a 6-inch ebook reader with a frontlit 212 ppi E Ink screen, 16GB of storage space, Wi-Fi, a touchscreen, and it has a 1GHz iMX6 processor with 512MB of RAM.
The Diva HD has the same design and general specs but it has an upgraded 300 ppi E Ink screen and it adds a blue light filter, an automatic rotation sensor, and it has the auto sleep/wake feature when using a cover.
It's hard to tell from the picture but they have dedicated page buttons and a button to turn the light on and off.
They have a silicone shell and the weight is a bit on the heavy side at 240 grams. They have a 1200 mAh battery and a micro USB port.
The Diva sells for €109 and the Diva HD sells for €139 from Bookeen's website. Covers are available as well in a variety of colors for an additional €25.