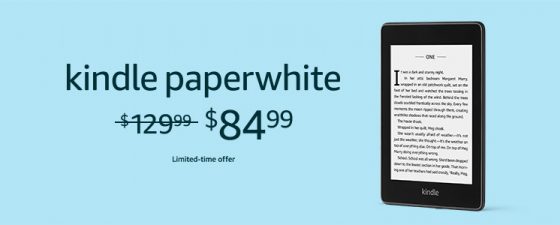 Amazon has put their Kindles on sale again, with prices tying all-time lows from Black Friday and Cyber Monday last year.
The sale includes all current Kindles except the Kindle Oasis, which they almost never put on sale. The only way to get a discount on the Kindle Oasis is to trade-in and older Kindle to get 20% off.
Unfortunately they don't have Kindle covers on sale this time around, but maybe they'll add those deals in a day or two.
The Kindle Paperwhite 4 is on sale at $84.99 for the black 8GB model and the 32GB version is $109.99—oddly the blue version costs $5 more but they're the same price when not on sale so how does that make any sense?
The entry-level Kindle is marked down to $59.99, which is $20 less than they're selling refurbished units for. $59 is a great price for a frontlit ebook reader.
The new Kids Kindle is on sale as well, marked down to $79. It's the same as the entry-level Kindle except it comes with a cover and twice as much storage space (8GB), plus an upgraded 2-year warranty.
For more information about the different models see this Kindle lineup comparison.
Here's the full list of Kindle sales:
Kindle Sales
Kindle – $59.99 ($30 off)
Kindle Paperwhite 4 – $84.99 ($45 off) 8GB model
Kindle Paperwhite 4 – $109.99 ($50 off) 32GB model
Kindle Paperwhite 4 – $199.99 ($50 off) 32GB model with 4G LTE
Kids Kindle – $79.99 ($30 off)
Other Kindle Deals
$3 Credit Towards Select Kindle Books
Get 5%-20% off Kindle Unlimited subscriptions
Kindle Paperwhite Essentials Bundle – $124.99 ($65 off)
Kindle Essentials Bundle – $94.99 ($45 off)